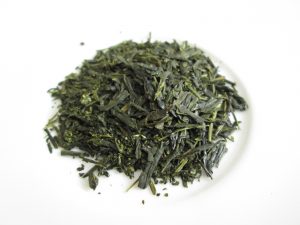 Today I'll be doing something very uncommon, but curiosity knows no bounds 🙂
It all began when I opened a package of gyokuro that was very old, 3 years or more.
It lost all of its original aroma, and the leaves became more brittle so that there's leaf dust everywhere.
I also found out that the characteristic umami flavor of gyokuro was gone too. Green tea degrades quickly, so by all means drink your high quality green teas first! The fresher the better.
The way I had been brewing it was as a bancha, which was amusing, so I tweeted about it.
Then James from Chanoyu, a teaware store that will open in the UK,  suggested the roasting. I've roasted sencha and bancha many times (refer to my post about roasting houjicha at home) but roasting gyokuro never crossed my mind!
Since it was already in a bad state, I decided to  go ahead and roast it, hoping that the result would be a better tea.
How to make a roasted gyokuro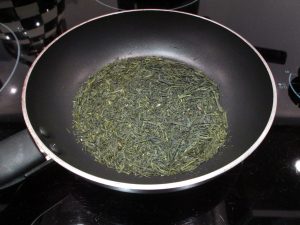 I took the leaves and set a pan on low heat. After a few minutes, the kitchen was filled with a roasted aroma.
This aroma is very pleasant for me, but  I could see that my wife didn't like it very much, plus we live in a small apartment.
After opening the window, I see that a faint smoke is coming out of the tea leaves. They became darker, with a brown hue to them.
Unfortunately, the gyokuro dust began to burn before the tea leaves could roast a little more. I had to stop there because the flavor would be ruined.
The leaves smelled "fresher" than a normal houjicha. I also filtered out the dust as best as I could.
Time to try it out!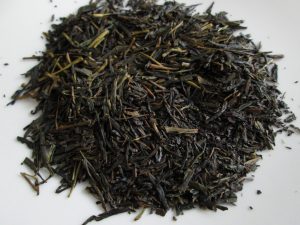 I brewed it just like I would a houjicha: 30 seconds of steeping time in boiling water.
The liquor has a slight roasted smell and a golden color. It looks very different from the average houjicha.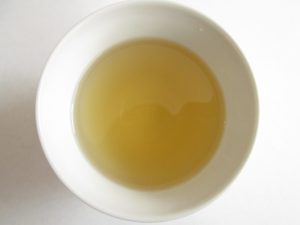 Finally, I get to taste it! It is oddly sweet, and just like before it doesn't taste like gyokuro. It does have a roasted flavor, and there's no bitterness, just some astringency.
My opinion is that a commercial houjicha tastes much better than this.
I could try roasting a fresh gyokuro, but it would probably be a waste. First I have to go trough all this old gyokuro that I have just roasted…