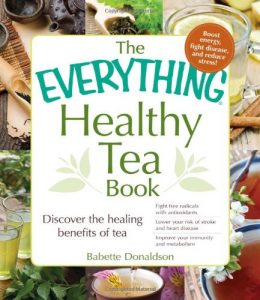 I learned about this book from Nicole Martin of Tea For Me Please. She reviewed this book on her blog a couple of months ago.
The Everything Healthy Tea Book is written by Babette Donaldson, who has also authored more books about tea.
This book focuses on health benefits, but also covers many aspects on the subject of tea.
The first chapters are about the basics of tea: what is tea, its history, legends, and the like. Then it describe the health benefits of tea while citing the medical research, which is probably the most valuable part of the book.
Caffeine gets its own chapter, all about it regarding tea is explained. Later chapters focus on different types of tea, and include topics such as brewing, health benefits, and examples of each, among other things.
At the end there is a collection of minor topics like tea storage, tea brewing tools and other uses for tea.
The ebook edition that I bought from Amazon has no pictures, I wonder if the physical book is also the same. Although the content is fairly extensive, a picture is worth a thousand words 🙂
I really enjoyed reading it. It's an introductory tea book, but even readers with more advanced knowledge can benefit from the medical research references.