I had heard good things about Rishi Tea, but hadn't tasted their teas until now.
This organic gyokuro comes from Kagoshima prefecture, and it's made with the Saemidori cultivar.
The leaves have an excellent appearance. They are tightly rolled and have a good shine.
Furthermore, only a few of them are broken.
As opposed to some gyokuro where the leaves are a very dark green, this one has a brighter tone of green while still being dark.
I felt a light, sweet aroma while smelling the leaves.
Let's try it out
Often, the teas sold in the US come with Western brewing instructions. In this case, it means 1 tablespoon of tea and 8 oz of water at 160 °F.
I prefer a more concentrated gyokuro, so let's go with 4 gr per person, about 20 ml (0.6 oz) per cup, and a temperature of 60 °C (140 °F) for 2 minutes.
The wet leaves smell like fresh seaweed. It's a marine aroma, just like most Japanese green teas.
So far so good.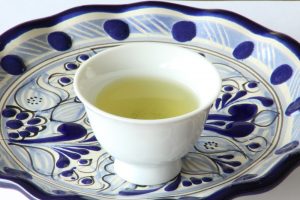 The liquor has an intense, yellow-green color.
As I tasted it, what most came to mind was the savory quality of a broth.
Do you know what umami tastes like? This tea is very powerful in that regard.
Better yet, it's not astringent nor bitter. The aftertaste is long, I can feel a light sweetness.
I definitely liked it.
How about another infusion?
I did just that and it was as delicious as the first one.
Next time I'll try ice brewing it, I think it will be a great match for that method.
Here's the product page in Rishi Tea. Give it a try and you won't be disappointed.