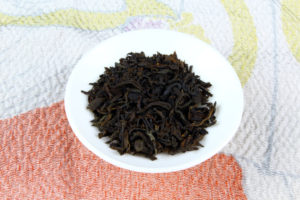 This year I haven't reviewed a black tea.
Japanese black tea, or wakoucha, is still uncommon in the market.
Ocha & Co gave me this sample. It's organic and made with the Yabukita cultivar.
I'm not a regular black tea drinker, but I do like to try it every once in a while.
Let's taste this black tea
I was very pleased with the aroma of this tea.
It is fruity, with a sweetness that reminds me of cookies.
The intensity of the aroma is higher than other Japanese black teas that I have tasted so far.
We're off to a good start.
Now I'll take a look at the tea leaves.
Black, curly leaves of medium size. There are no twigs or stems present.
I don't think that these are fist harvest tea leaves. But they aren't the lowest grade either.
Since Japanese black teas are usually light in flavor, I like to prepare them with one teaspoon of tea leaves, 120 ml (4 oz) of boiling water, for 5 minutes.
The wet leave also have a sweet aroma.
I can feel that the characteristic fragrance of black tea is toned down a bit.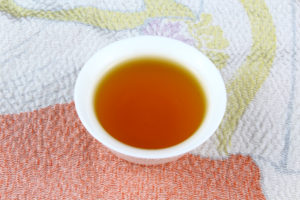 The liquor has a clear orange color.
Now I can finally taste it.
It isn't bitter at all.
I feel much body, but it isn't as sweet as it smells.
I also liked its aftertaste.
Overall, a very good Japanese black tea.
Let's do a second infusion. I'll infuse for 4 minutes this time.
Now the color is lighter.
But the taste is still good. Perhaps a little less sweet, and the aftertaste lasts less time.
Finally, I made the last infusion for 3 minutes.
While it had almost the same color as the last infusion, the taste was lighter.
However, it still isn't bitter nor astringent.
Here's the product page in case that you want to try it.