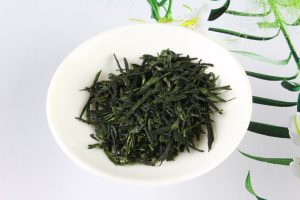 Takumi means artisan in Japanese.
This isn't the highest grade gyokuro from Maiko Tea, but it's up there with the best.
There's little information on the website regarding this tea, except that it is made by Mr. Yamashita with the utmost care.
By the way, this gyokuro won a Nihoncha Award in 2015.
Let the gyokuro tasting begin
I'm surprised by this tea's aroma.
The leaves smell very sweet, almost fruity.
It isn't the heavy, creamy sweetness that I've often experienced.
Nevertheless, it is intense.
A unique and delicious fragrance.
Now I'll give these tea leaves a good look.
They have a superior appearance. Thin, dark leaves with luster.
Not much broken leaves or tea dust.
So far, it seems like a high quality gyokuro.
I'm very eager to taste it.
As usual for this type of tea, I used 4 grams, 20 ml (2/3 oz) of water at 60°C (140°F) and an infusion time of 2 minutes.
The wet leaves also have a sweet aroma.
I don't feel like it is heavily marine nor vegetal. It's mostly sweetness and freshness.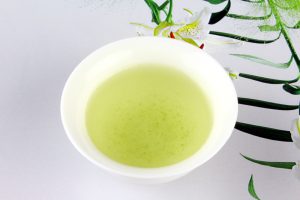 After pouring, I can see a clear, yellow-green liquor.
And now, without further ado, I'll taste this green tea.
A full bodied liquor with a lot of umami taste.
There's much sweetness, even in the aftertaste.
An exquisite gyokuro with no bitterness nor astringency whatsoever.
The second infusion was made with the same temperature, but for a minute and a half.
Unexpectedly, it has plenty of umami left.
I think that it tastes quite similar to the first infusion.
Now let's go ahead and prepare a third infusion.
80°C (176ºF) for one minute.
The liquor looks darker.
It still has umami taste left.
This tea now tastes like a good sencha. Refreshing without being bitter nor astringent.
We're not done yet, we have two more steepings.
Next is 80°C (176ºF) for just 30 seconds.
A much lighter taste.
It's not bitter but it is slightly astringent.
Not much umami taste either, but still worth drinking.
Finally, I just used boiling water for 10 seconds.
The liquor has an intense green color.
However, the taste is very light.
Not bitter, but feels like a watered down bancha.
Since it's such a good gyokuro, I went ahead and ate the tea leaves with a few drops of soy sauce.
They are tasty. Not bitter at all.
Overall, a very good gyokuro.
The best that I've tried this year.
Click here to see the product page.