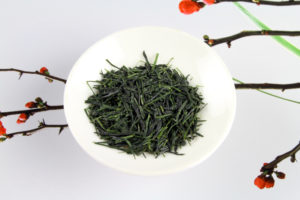 Thanks to Yunomi.life, I was able to taste this winning gyokuro from the All Japan Tea Competition 2017.
It's made by Kuma Tea Gardens in the city of Yame, Fukuoka prefecture. Note that the region of Yame is famous for its gyokuro.
This tea had a perfect score at the competition. I'm very excited to discover what a flawless gyokuro tastes like!
Tasting a top quality gyokuro
I'm not sure what to expect because I've never tasted such a high level tea. Anyway, let's begin.
Inside the package I felt a wonderful aroma. Very fresh, sweet and creamy.
The tea leaves have an excellent appearance as well. They are thin, tightly rolled, and only a few of them are broken.
These leaves are definitely from the first harvest, and must have been hand picked.
Regarding their color, I see a dark green with luster.
To prepare it, I used a teaspoon (4 gr) of tea, 20 ml of water at 60 °C (140 °F), and an infusion time of 2 minutes.
The wet leaves have an intense marine aroma, like seawater. There is also freshness and some sweetness.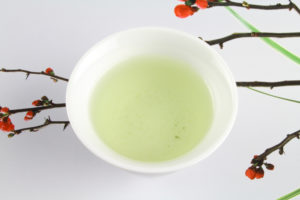 Once I served the tea, the liquor exhibits a pale yellow-green color.

This is easily the sweetest gyokuro that I've ever tried.
Not in the sense of a heavy sweetness, but because the other flavors except umami are toned down. It's a clear sweetness.
It has a good body and the refreshing aftertaste lasts long.
As all good green teas, it isn't bitter nor astringent.
My impression is that it tastes like a shincha combined with a high grade kukicha. I hope that this doesn't sound stupid to professional tea tasters 🙂
I made the second infusion using the same temperature for 1 minute.
It had pretty much the same taste. Very good.
For the third infusion, I used 30 seconds and increased the temperature to 70 °C (158 °F).
While it had less umami, it was still a good green tea.
A fourth infusion of just 15 seconds with temperature of 80 ºC (176ºF) resulted in a lighter tea. But it was still enjoyable.
The fifth and final infusion was with boiling water and for about 5 seconds. It tasted like a bancha.
I wasn't done with this gyokuro yet, it is too precious to be wasted. So, I ate the spent tea leaves inside a salad.

At times like this I feel glad to be a tea blogger. Such a pleasure to taste this exquisite tea.
Here's the product page from Yunomi.