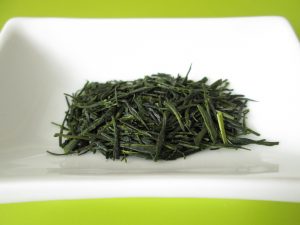 I received this tea from Tea Company Sayamaen, a tea store from Tokyo that is over 50 years old.
Much thanks to Kayoko Ikeya for personally giving me this tea for review.
It's amazing that tea lovers from Japan are also reading this blog 🙂
What's special about this fukamushicha is that it's blended by Fumio Maeda, whom I'll briefly introduce next.
About Fumio Maeda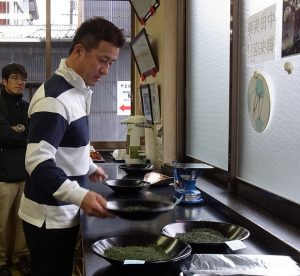 Fumio Maeda is both a tea blending master (茶師, chashi) and a tea taster that is very famous. He has appeared in Japanese television and other media.
What brought him such fame?
At Japan's National Tea Examination Competition (全国茶審査技術競技大会) of 1997, he displayed a skill far above the other contestants.
Level 9 was the highest at the time, but a 10th level was created and awarded to Fumio Maeda.
Let's start the tea review
This tea is a blend of tea leaves from three different regions, each with its own terroir:
Kōchi prefecture (

高知県

). The tea plants are cultivated in a mountainous area.
Miyazaki prefecture (宮崎県). This area is at the south of Japan, and has a warmer climate.
Honyama (本山) region of Shizuoka prefecture (静岡県). Cultivated in flat areas.
All three tea leaves are from the Yabukita cultivar, but they differ greatly. They are blended in such a way that the result is greater than the sum of its parts.
The tea leaves are thin and look very fresh. As opposed to most fukamushichas, these leaves aren't that much broken down into pieces.
Judging by the color, shape, and size, they look like high quality tea leaves. They can easily be confused with leaves from gyokuro.
The aroma of the loose leaves is pretty much unique. Instead of grassiness, it is almost creamy. Again, it's something that maybe you could find in a shincha or gyokuro.
I used 4 grams of tea leaves, and infused them in 80 °C (176 °F) for 40 seconds.
At the moment I served the first cup, I could tell that this wasn't your normal fukamushicha tea. The wet leaves gave off a seaweed aroma that felt more concentrated than what I had previously experienced.
With such a heavy smell, I thought that the taste would be strong as well. I was wrong.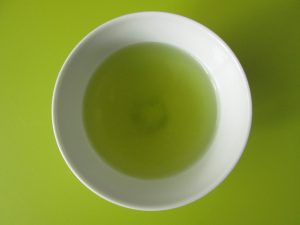 It's a light taste, almost delicate. The small degree of bitterness and astringency are balanced by the umami taste and an even slighter sweetness.
It has body to it, but it feels refreshing.
The liquor looks very nice, an intense green but lighter than other fukamushichas that I've tried.
Finally, I made a second infusion and it also was a great cup of green tea.
I liked this tea, it's something you don't see everyday. The smoothness of the tea makes a good contrast with the impact of the wet leave's aroma.