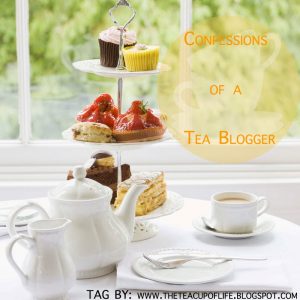 A game of tag for tea bloggers was started by Lu Ann of The Cup of Life.
It consists of answering a list of questions in a blog post, and then tagging other tea bloggers.
By the way, I was tagged by Rachel Carter of iHeart Teas. Thank you Rachel!
1) First, let's start with how you were introduced & fell in love with the wonderful beverage of tea.
I've never liked coffee, and I'm not a big fan of chocolate, so for a hot drink I would usually have a tisane known in Colombia as agua aromática. It consists of different herbs, sometimes it has fruit pieces too. It's a traditional beverage in Colombia.
In college, I had Japanese friends and even began learning their language. One thing led to another, and I had the opportunity to study in Japan for a year. It was there that I first tasted loose leaf green tea and have loved it ever since.
2) What was the very first tea blend that you ever tried? 

As many others, my first blend probably came from a Lipton teabag. As for flavored tea, it was genmaicha. It's still one of my favorite teas.
3) When did you start your tea blog & what was your hope for creating it? 

I started my blog in July 2012. I first looked for Japanese tea information online but didn't find what I was looking for. I then decided to start my own Japanese tea blog and become rich and famous (that part didn't work) 🙂
4) List one thing most rewarding about your blog & one thing most discouraging. 
The most rewarding thing about my blog is the feedback that I receive from readers, it makes me feel that I'm doing something worthwhile.
The discouraging part is that gaining new readers takes a long time, and producing good content takes a lot of effort.
I wish that I could one day make some meaningful income in the tea industry. That's a project that I'm working on right now.
5) What type of tea are you most likely to be caught sipping on?

I'd like to drink matcha daily, but my budget doesn't allow it. So it's usually genmaicha and bancha/sencha.
6) Favourite tea latte to indulge in?

Matcha latte, of course!
7) Favourite treat to pair with your tea?
I usually have it with a meal, or by itself. But if I had access to it, I'd love to eat wagashi as a treat with my tea.
8) If there was one place in the World that you could explore the tea culture at, where would it be & why?
Since I blog about Japanese teas, it has to be Japan.
When I was there, I had a lot of tea but didn't get to visit tea farms and the like.
9) Any tea time rituals you have that you'd like to share?
This isn't much of a ritual, but what I often do is smell the tea leaves before I brew them. It gets me in the mood for tea drinking.
10) Time of day you enjoy drinking tea the most: Morning, Noon, Night or Anytime?
Anytime is fine. That being said, I always have tea with breakfast. It's a habit of mine.
11) What's one thing you wish for tea in the future?
I see that tea is gaining more traction in North America as well as Europe, there are more tea lovers now than ever before. I want South America to join the trend too! I'll try my best from this part of the world.
— Who do you tag?
I TAG:
Derek from Peony TS
Matt and Griff from The Art of Japanese Tea
Kohei from Tales of Japanese Tea