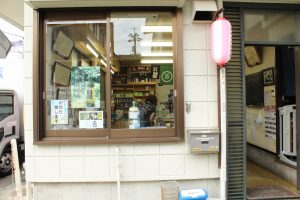 My last tea experience at Shizuoka prefecture was at Yamahachi Maeda Koutarou Shouten (やまはち前田幸太郎商店).
This company is a tea wholesaler. It's best known because the master tea blender Fumio Maeda works here.
I wrote about him in a past tea review.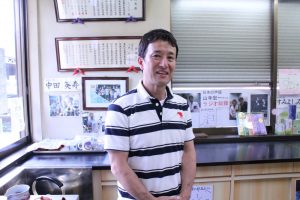 Basically, he's a legend among tea tasters in Japan because in 1997 he entered a national tea examination competition and showed such a high degree of skill that he was awarded 10th rank, even though the highest at the time was 9th.
In the present, there are about a dozen more people with his same rank, but he will always be remembered for being the first.
Kayoko Ikeya of Tea Company Sayamaen (more on this store in the next post) was kind enough to take me there. Luckily for me, she is a friend of Mr. Maeda.
Meeting the tea master
The store is in Shizuoka city.
At first sight it looks quite tiny. It's easy to miss.
The company was founded by Mr. Maeda's grandfather: Koutarou Yagi (幸太郎八木).
Fumio Maeda isn't the company's owner (his cousin is in charge), but he definitely helps sales with his fame in Japan's tea world.
Mr. Maeda greeted us and invited us inside. There were many Japanese teas on display in the store, and there appeared to be a small office at the back of the room.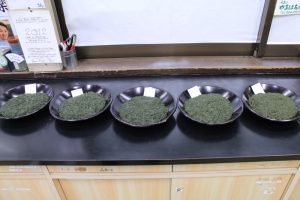 He explained to us how he makes his blends. He chooses teas from different regions and then blends them so that the resulting tea is better than the sum of its parts.
Note that it takes a great amount of skill to perform this feat.
It's easy for anyone to tell a good tea from a bad tea, but to think about how many good teas can work together as one is an entirely different thing.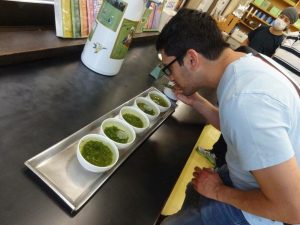 Kayoko and I were allowed to taste each tea by itself in a professional way, and then to do so on the blended tea.
I hope that I didn't make a fool out of myself 🙂
Of course, I had no idea what the big difference was. Without the required years of practice, one can't really do a good job at tea tasting as they do in Japan.
I could tell that they were good teas, and that they had their own taste and aroma. But unfortunately I didn't have the capacity to tell why the resulting blend was a better tea.
I believe that he makes a different blend every year. Each year tea tastes different because of climate variations and the like.
He also gave me a sample of his blend to take home! I'll review it with great pleasure.
Tea factory tour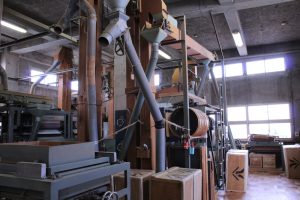 What seemed liked a small building turned out to be a tea factory!
Mr. Maeda showed us the machines that he uses to refine tea and also to blend it at a large scale.
He explained each step in the process, it was very interesting.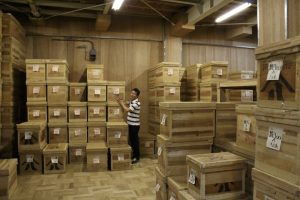 As always, I made sure that I took a deep smell of the cold storage room. I just love that aroma.
I wish I had one in my house so that I could enter it many times a day.
Too bad that we didn't have the time to stay longer. Fumio Maeda is a very kind and humble person.
Now that I mention it, I have the impression that many successful people in Japan exhibit humility. I wish that it was more valued in the Western world.
I'm very thankful for Kayoko. It was a great experience to meet tea master Maeda.
I definitely want to visit this store again. I'm sharing its location on Google maps below.