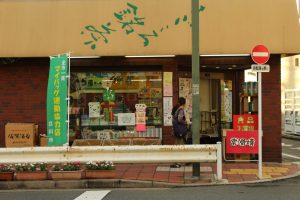 After visiting Shizuoka prefecture, I still had some few days for tea tourism in the Tokyo area.
My friend Kayoko Ikeya invited me to visit her parent's tea house, Tea Company Sayamaen.
Kayoko is also a Japanese tea advisor. She is very active in promoting Japanese tea culture, and has helped this blog in many ways.
We took the metro until Nishi Kunitachi (西国立) station. Then we walked for a short while until we reached the store, which is in Tachikawa city.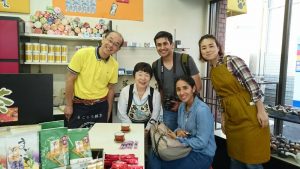 Inside, I met Kayoko's parents: Kazuko Ikeya and Kenji Ikeya. Mr. Kenji is a Japanese tea instructor.
They are very friendly people, always smiling.
If I'm not mistaken, there was a sale or a special event that day and Kayoko was helping out her parents.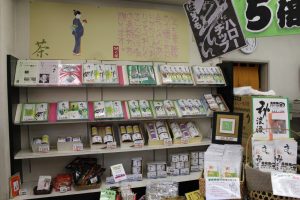 The store has a good selection of tea, and they also sell dried goods such as seaweed and rice crackers.
It's common for tea stores to have these type of products because the temperature and humidity needed to store them is the same as for tea.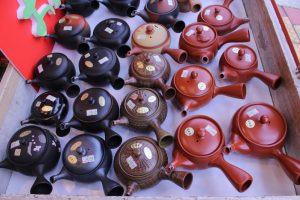 I also saw many beautiful kyusu (Japanese tea pots), as you can see in the picture.
The ceramic was Tokonameyaki. They were special because they were made to be much lighter than normal.
I would have loved to buy one, especially a black one. But at that point in the trip I didn't have the money nor the space in my bag 🙂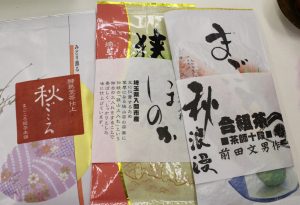 They gave me some teas too!
I took a picture for you to see.
Soon I'll publish a review of one of them.
About Tea Company Sayamen
The company was founded in Februrary of 1951 by Kikuo Ikeya, hence it's more than 60 years old.
He was an instructor of the Japanese tea ceremony under the Omotesenke school.
Kenji Ikeya, his son, has been in charge of the company since 1981.
The store won the 11th national contest of superior operation of food retail, awarded by the Ministry of Agriculture, Forestry and Fisheries, in 2002.
That same year, it also received an award by the Culture Bureau of Tokyo.
Customers can bring their spent tea leaves, and the store will process them in order to make a dry fertilizer. They give it to their customers free of charge.
Because of this recycling initiative, they received recognition in superior waste disposal from the city in 2010.
Finally, on February of this year (2017) they won the Tachikawa Award, which is based on product quality and customer service.
This store has loyal customers that have been buying from them for 20 and even 30 years.
The Ikeya family doesn't just sell tea and tea ware. They visit their suppliers every year and keep contact with them so that they can have an accurate story to tell their customers each time.
I couldn't stay for too long because it was getting late, but I was glad that I got to know the rest of the Ikeya family.
The store has a very warm atmosphere. Mr. Ikeya decorates it with signs that he makes himself, and they are changed every season.
I highly recommend visiting if you have the time.
You can also order tea from them even if you live outside Japan. Write to them at this email address:
ippuku@jcom.zaq.ne.jp