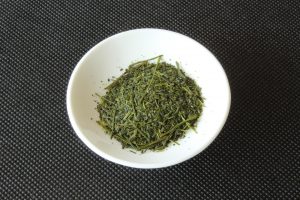 This is the first tea that I review from www.japanesegreenteain.com.
This company sells tea from Shizuoka prefecture. More specifically, the Arahataen Green Tea Farms.
Arahataen employs the chagusaba sustainable farming, where grasslands are kept along the tea fields and then used as fertilizer.
The company ships directly from the United States to anywhere in the US and Canada.
About Issaku
Issaku is a hand-picked fukamushi sencha. This is Arahataen's highest quality tea.
It's also aged using the kuradashi method. The tea is stored at controlled moisture and cold temperature for six months.
Because it is available in limited quantity, I'm very eager to review it 🙂
Besides, Shizuoka prefecture specializes in fukamushi sencha. So this is the real deal.
Time to drink green tea
The first thing I noticed was a fresh and sweet aroma. It's almost like if it was a gyokuro.
Let's inspect the tea leaves now. They have a good appearance.
It's common to have a lot of broken bits in a fukamushi sencha, because the leaves are very brittle. But the few intact leaves in this tea were like green, shiny needles.
I'll use the standard of 3 grams of tea, and brew for 40 seconds in 60 ml (2 oz) of water at 80 °C (176 °F).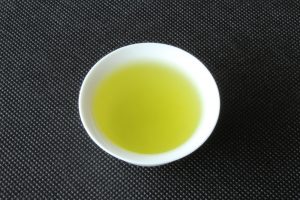 After the infusion, I obtained a beautiful emerald color.
But let's smell the wet leaves before drinking it.
The aroma seemed to me much sweeter than the usual fukamushicha.
And naturally, it has the characteristic seaweed aroma of Japanese green teas.
Overall it is fresh, sweet and marine.
Just by the smell I can guess that it has a lot of umami flavor. Let's see if I'm right.
The flavor is quite good. It's definitely a high quality tea because it has a lot of body and a noticeable sweetness.
Again, it reminds me of a gyokuro. The umami makes it feel like a broth.
I didn't find much astringency nor bitterness.
But you must be careful because this type of green tea is very sensitive to temperature and time, so it easily becomes too strong.
I would also recommend to start out with less grams of this tea as opposed to more, for the same reason.
There's still more infusions to make.
I ended up making 4 in total!
For the last two, I decreased the infusion time by 10 and 20 seconds to avoid bitterness. They were all delicious.
Issaku is without a doubt a high quality tea.