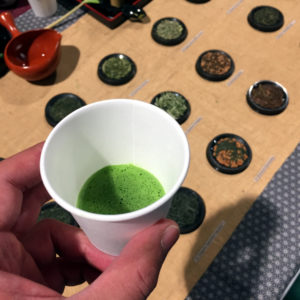 This is part 4 of a series about the World Tea Expo 2017. Click here for part 1.
This year the expo was smaller in terms of vendors.
The good thing is that there was more time to visit all the tea companies.
But I took longer at each stand because more people knew about me, so I didn't get to see everything.
At Sara's Tea Caddie I drank my last Japanese tea.
It was a high quality matcha, I liked it a lot. But I forgot to ask for its name.
There was still some time before the expo floor closed.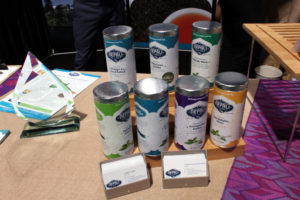 First I visited Nepali Tea Traders.
They were very kind, we talked about Nepalese tea.
I had tried tea from Nepal at the expo last year. I have very few experience with it.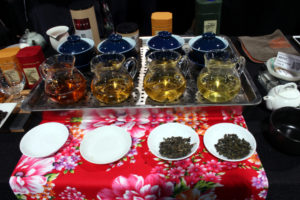 I wanted to try a Taiwanese oolong, so I went to JT & Tea.
Their jade oolong was delicious.
The person I spoke with is Thomas Shu.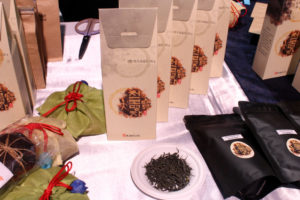 After that I headed to Cheonbo Tea Garden.
I had seen this Korean tea company last year.
They have an excellent black tea. I tried it last year too.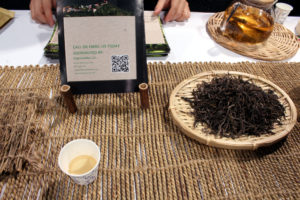 Another tea producing country that I barely know about is Laos.
The company Komaen Tea sells tea made from 400 year old tea trees.
Their green tea felt very smooth.
The tea leaves were very exotic. Big, dark and curly.
I continued my tour of tea countries that I wasn't familiar with.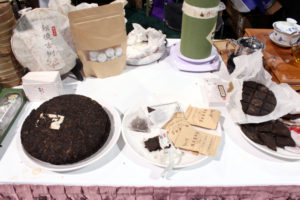 I tried tea from Myanmar that was processed in Yunnan, from Guangxi Guozhuang Investment Co.
I don't drink dark teas so often, but I think that the one I tried here was pretty good.
It had some sweetness and felt earthy and humid.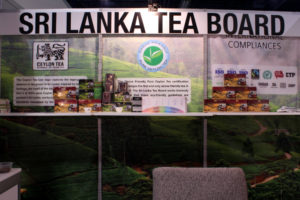 Then I visited the Sri Lanka Tea Board.
They had black tea from different regions of Sri Lanka, it was very interesting.
I tried two of them, and I could tell the difference.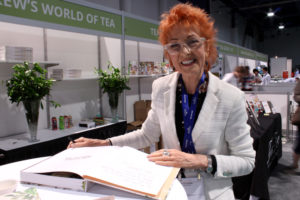 Another thing I did was to buy a book: Jane Pettigrew's World of Tea.
Jane signed it herself 🙂
I'll read it and then write a review about it.
The book is big and heavy, that's why I left it for last.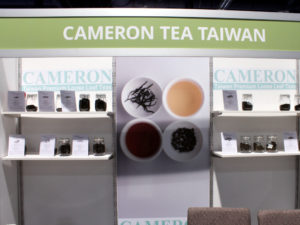 Then I stopped by Cameron Tea and tried another Taiwanese oolong.
The person I spoke with is Chia Cheng.
He had six different oolongs available for tasting. Too bad that I didn't have much time left.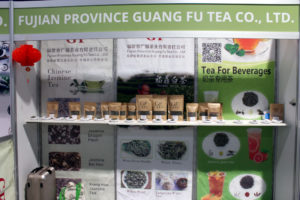 The last place I visited was Fujian Province Guang Fu Tea Co.
They had many different kinds of Chinese teas.
My flight was on that same day, so I had to hurry back to the hotel to get ready.
As always, coming to the World Tea Expo was a great experience. Not just because of the tea, but for the people.