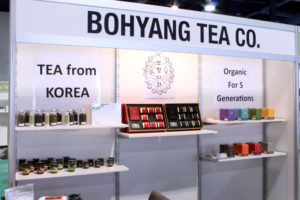 This is part 3 of a series about the World Tea Expo 2018. Click here for part 1.
Korean tea companies have maintained a good presence since last year.
I decided to take a look at them.
First was Bohyang Tea Co.
I didn't get to try their tea, but from what I could see they had a good variety of organic tea blends.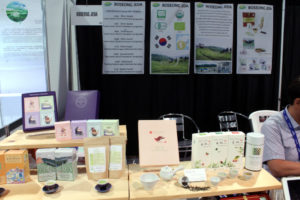 Next was Boseong Jeda.
As you can tell by its name, this tea company is from Boseong county.
The managing director is Sang Kweon Seo.
This time I was able to taste a green tea. It was very good, but I don't remember what it was.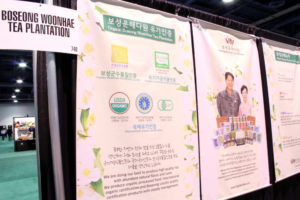 I still had time for another Korean tea company.
Boseong Woonhae Tea Plantation had been at the expo last year.
The vice president Soon Geum Lee served me a high quality green tea. I believe that it was an ujeon.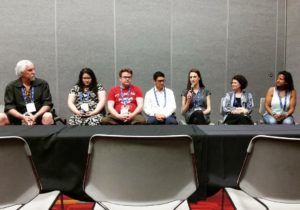 Then I was in a hurry because it was almost time for the Tea Bloggers Roundtable, where I was part of the panel.
Jo Johnson of Scandalous Tea was the moderator. Thanks to her efforts, the tea bloggers have a voice at the World Tea Expo each year .
From left to right: Gary Robson of Tea with Gary, Charissa Gascho of Oolong Owl, Geoffrey Norman of Steep Stories, Ricardo Caicedo (me), Anna Mariani of The Tea Squirrel, Sara Shacket of Tea Happiness, and Rachel Carter of iHeartTeas.
I can see how each year we get more recognition in the industry, but there's still a long way to go.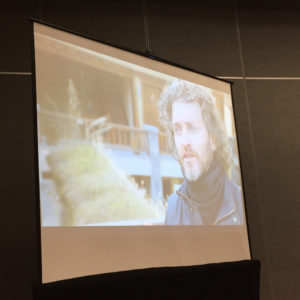 We also saw The Tea Explorer, a documentary by Jeff Fuchs.
The workshop involved explaining how each one would write a blog post about that video.
We had questions from the audience along the way.
The next and final day at the expo, I decided to attend a conference.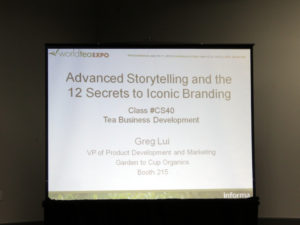 It was titled: Advanced storytelling and the 12 secrets to iconic branding.
The speaker was Greg Lui. He is very knowledgeable and also quite funny 🙂
I can tell from experience that the story behind a specifi tea or tea company is very important, because that's one of the main things that tea bloggers do.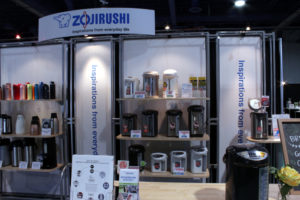 Back at the expo floor, I visited Zojirushi.
They were celebrating 100 years, it's amazing.
Each year I keep saying that I'll buy a new Zojirushi boiler. Hopefully this will be the year when I finally get it.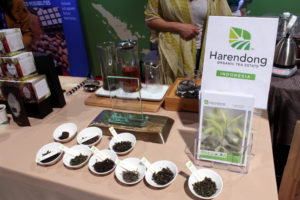 Next I went to a stand of Indonesian tea.
There I tried my first Indonesian oolong. I liked it very much.
It was from Harendong Organic Tea Estate.
What surprised me the most was that the lady knew about me and my blog!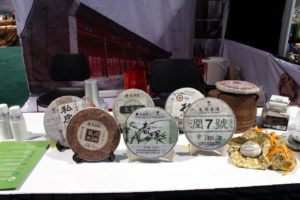 Nearby I saw a nice display of pu'er tea cakes from LongRun.
Luckily there was no one around, so I managed to take this picture.
I received the business card of the sales manager, Luke Lee.
I hope that you've enjoyed what I wrote until now. The fourth and final post of the series will be published soon.