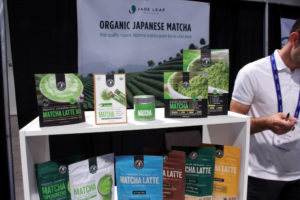 There was another company at the expo that I had not seen before, Jade Leaf Matcha.
Marc Raymond, who is the manager, gave me a sample of the company's classic ceremonial grade matcha.
It comes from Uji, and it is also organic. I'll make sure to write a review about it.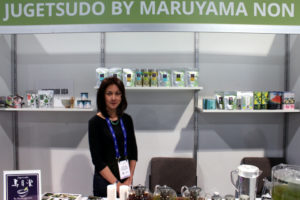 After that I went to the booth of Jugetsudo. I met Yoko Oishi, the national sales manager.
This company has tea houses in Japan and France.
You can also buy their teas online.
I tried their mecha and houjicha. They were both of good quality.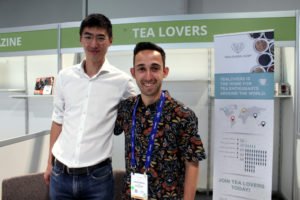 My next stop was at tealovers.com, a new online tea community.
I talked with Peng Lin and Chase Dimond.
While I haven't looked at their website yet, it seemed like they were having traction already.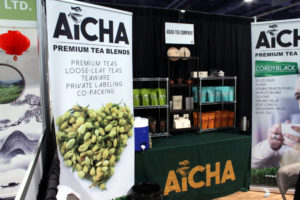 Next I stumbled upon Aicha Tea Company, I took a look because they had a beautiful set of Chinese teaware.
Unfortunately the picture I took of the teaware came out blurry.
I didn't get to talk to them. They were busy at the time.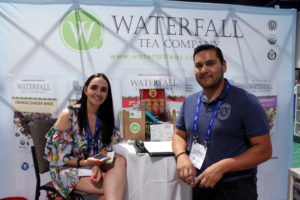 Then I went to see my friend Salvador Sosa from Waterfall Tea Company.
He is also active with tea in Mexico at the tea store Sinensis in Tijuana.
Patricia Ortega of Tessito was there too. She's also from Mexico.
I had the chance to take a picture of both of them.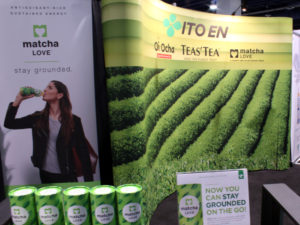 Ito En is always at the World Tea Expo.
I met Tsutomu Tsukamoto, the senior manager. He's very friendly.
Ito En is selling shincha from different regions at their website, it looks very interesting.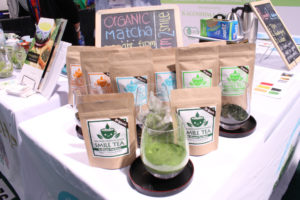 At Kagoshima Seicha, I met Yuki Tomiyama and Kumiko Hashida.
Ken Mizorogi was also present, he's the overseas representative of the Tea Industry Chamber of Kagoshima.
They have a new brand: Smile Tea. I'll review it in the near future, since they gave me samples.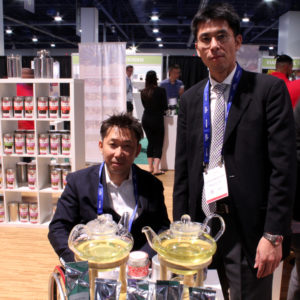 International Tea Importers had a big area at the expo, as in previous years.
There I talked with my friend Hidenori Moriguchi, and he introduced me to Takayuki Yamaguchi.
Mr. Yamaguchi is the president of Shinsei Wataraicha, a tea company from Mie prefecture.
I received samples of his tea 🙂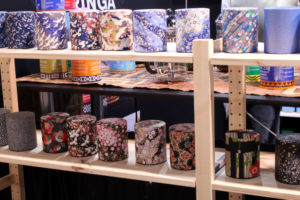 Another stand that I always visit is Kotodo.
They had some great looking tea canisters, I took many pictures.
In the next post I'll tell you more about my experience at the World Tea Expo 2018.