This is part 4 of a series about the World Tea Expo 2017. Click here for part 1.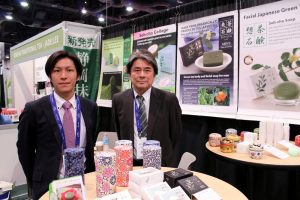 From S sells beauty products made with green tea.
If I'm not mistaken, From S means "from Shizuoka".
I met Tomonao Yamamura and Satoshi Yamamura.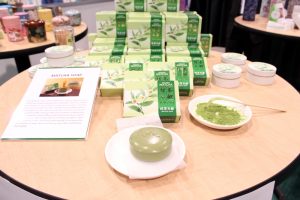 They had matcha soap, sencha soap, and a green tea cream, among other products.
If you go to their website, there's a section in English where you can purchase the products.
They will be shipped to you from Japan.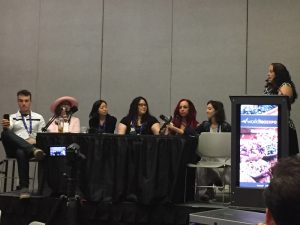 After that I went to see the 5th Annual Tea Bloggers Roundtable.
The panelists were TJ Williamson of the World Tea Podcast, Marcella Farina of Tea And Hat Lady, Rita Fong from Adventures in Tealand, Charissa Gascho of Oolong Owl, Darlene Marie Fahl, Carlotta Mariani of Five O'Clock Tea, and Naomi Rosen of Joy's Teaspoon was the moderator.
It was fun to see so many tea bloggers in one place.
Many thanks to Jo Johnson for organizing this event each year.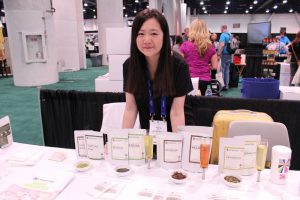 Later on I visited the stand of Nanami Tea.
The founder, Yuki Ge, showed me her organic teas from Uji.
I liked the houjicha.
I also had the opportunity to taste tea from my homeland.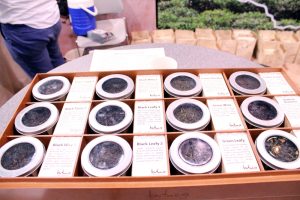 Bitaco, a tea made in Colombia, has been improving its quality and now exports to different countries.
I said hi to Juan Gonzales and Santiago Gonzales.
They generously gave me lots of samples, I'll give them a proper tasting soon.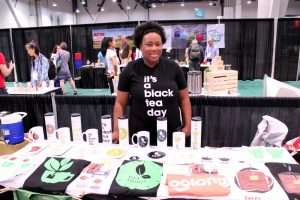 Next I visited Tea Life, founded by Erica Massenburg.
This store sells tea, clothing and accessories. Tea lovers can identify with her designs.
Of course, I liked the green tea T-shirt 🙂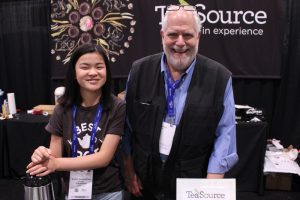 After that I stopped by Tea Source, also a familiar tea company at the World Tea Expo.
I took the picture of Maggy and Bill Waddington.
I remember tasting a green tea from their stand, but I can't remember what it was.
I think that it was a bancha from Kagoshima.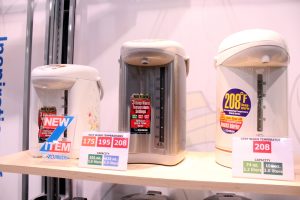 Every World Tea Expo I visit Zojirushi to take a look at their newest water boilers.
I plan to replace my old one, but I'm on a low budget right now.
By the way, the Zojirushi rice cooker is also in my wish list.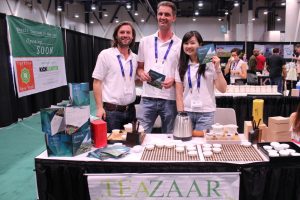 Teazaar aims to be a trade platform and a social network for sustainable tea.
Renco Verhoef (founder) along with David Weiss and Coco Tong gave me a brief introduction.
I admire their enthusiasm, hopefully their plan works out.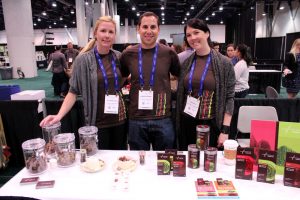 I'm a big fan of chocolate. That's why I couldn't say no when I was offered some at Infusions by Charlie and Sam's.
I was greeted by Stephanie Grant, Brandon Frimet and Tara Britt.
The one I tried had matcha and dark chocolate. It was delicious.
That day, I attended the World Tea Awards.
I was nominated for best tea blog, but I didn't win.
Click here for the complete list of winners.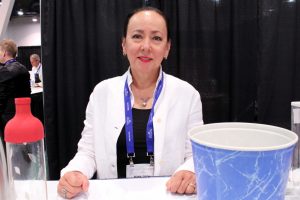 Rona Tison of Ito En won the John Harney Lifetime Achievement Award.
Here's a picture of her, I saw her in the expo and had a short chat.
The final part of my experience at the World Tea Expo 2017 is in the following post.