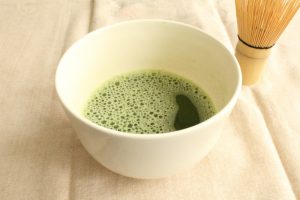 I've received questions by readers regarding the foam of matcha.
First of all I must warn that some schools of the Japanese tea ceremony prefer less foam or not at all, so it's basically an aesthetic thing.
Also, I don't think that a matcha that froths easily always tastes better.
The foam that you see on top of a whisked matcha occurs because of a compound called saponin. Some matchas have a higher saponin content than others.
These are the 4 reasons why your matcha isn't frothing:
1. Not sifting your matcha
Sifted matcha is easier to dissolve in water.
While I personally don't sift my matcha at home every time, it does make a difference regarding the resulting foam.
2. The water isn't hot enough
Cold water results in many lumps, and hence less foam.
80 °C (176 °F) water is recommended, but you can use hotter water, even boiling.
When preparing loose leaf green tea, high temperature can be a problem because you may extract too much catechins and the tea becomes very bitter and astringent.
In matcha, however, the powder will dissolve completely. So you can definitely use boiling water, but a lower temperature is recommended because a very hot matcha is harder to drink.
For a hot matcha one has to wait until it cools down, otherwise you'll burn your tongue and won't be able to taste it well 🙂
3. The matcha to water ratio is too low
Using too few matcha powder and too much water makes for a weak matcha. It's obviously harder to froth.
People that prepare matcha for the first time often think that they have to fill the entire matcha bowl. You don't need to, it would be too much matcha.
The reason the matcha bowl is big is because it allows the whisk to fit, and so that it won't spill while whisking.
You only need 60 to 70 ml (2 to 2.3 oz) of water, it's about a fourth of my matcha bowl, but it depends on the bowl.
Regarding the matcha, 2 grams is usually recommended. That's roughly about 2 scoops of the tea scoop (chashaku), or one teaspoon.
However, when I weight the matcha that I use, it often ends up being about 1.6 – 1.8 grams. It doesn't have to be exact.
4. Whisking skill isn't good enough
I have to admit that I'm not very good at whisking. I must practice more.
If it's your first time whisking matcha with the tea whisk (chasen), don't expect a nice foam.
As with many things in life, you'll get better eventually if you keep doing it.
Matcha frothing experiment
I prepared two matchas using the same ceremonial grade powder. The idea is for you to see the results in the foam with different parameters.
For the picture at the top of this post, the water was at 80 °C (176 °F),  I used 2 grams of matcha which I didn't sift, and 100 ml  (3.3 oz) of water.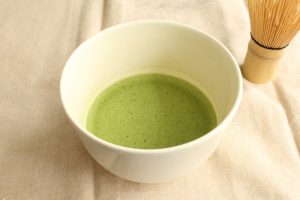 For the picture at the right, I sifted the matcha, the water was near the boiling point, and there were 2 grams of matcha with 60 ml (2 oz) of water.
As you can see, the first matcha has less foam and big, course bubbles. It doesn't look good.
In the second attempt, the layer of foam is more uniform and the bubbles are smaller. This one also tastes better than the other one, mainly because the matcha to water ratio is correct.
There's another thing that I haven't mentioned. At first whisk your matcha with a little bit of water and then add the rest of the water. This way you'll have less lumps of matcha.
Again, depending on the school of the tea ceremony too much foam may be undesirable.
But for a good looking matcha prepared in a casual way, keep this four points in mind.