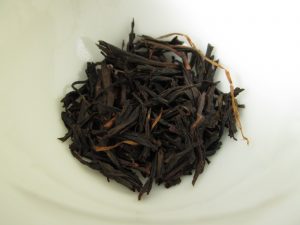 First of all I want to thank Geoffrey of the Steep Stories blog.
He sent me some rare Japanese teas as a gift, and this is one of them.
Japan specializes in green tea, but there are few producers that choose to make different types of tea, such as Takeo Tea Farm from Mie prefecture.
They developed their own method for making this organic oolong, but unfortunately they don't specify how it works.
Reviewing my first Japanese Oolong
Oolongs are semi-oxidized teas, meaning that they are somewhere between a green tea (non oxidized) and a black tea (fully oxidized).
By its appearance, I would say that this oolong has a good deal of oxidation. It can easily be confused with a black tea.
I opened the package and found dark leaves rolled into a needle shape. Their aroma is sweet.
At yunomi.life the brewing guidelines are 3 grams of leaves, 200 ml (6.8 oz) of water at 80 °C (176 °F), and a steeping time of 2 minutes.
However, I'm not into Western style brewing, I'd rather use smaller cups and a higher leaf to water ratio. Thus, I decided to brew it in a gaiwan. Oolong is popular in China and Taiwan, so I think that brewing it their way would be best.
I used 3 grams of tea and 60 ml (2 oz) of water at 80 °C (176 °F) and made multiple short infusions, about 30 seconds each. The reason for the low volume of water is that my gaiwan is quite small and so are the cups. They are about the same size as those for drinking gyokuro.
I bought this gaiwan set from Amazon. Maybe it's not as professional (it doesn't have a saucer), but it is inexpensive and portable. The set consists of the gaiwan, a fairness pitcher, tweezers, and six cups. Plus, it comes with its own case 🙂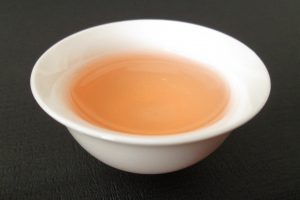 For the first brew, I obtained a liquor with copper color and a light sweetness, almost like honey. The taste itself is mild, with hints of citrus and no bitterness.
The second brew produced a darker color, with a little more astringency but still delicious. The same thing happened for subsequent infusions, and I did six in total.
While I'm not a regular oolong drinker, I think that this tea is quite good.
If I'm not mistaken, this tea is milder than most oolongs. It's probably better to use more leaves as opposed to less.
Have you tried a Japanese oolong yet? You can buy it here.