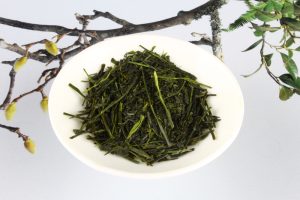 Many years ago I tried the Koushun cultivar for the first time at Chachanoma.
It was a delightful experience.
Unfortunately, time passes and now I can barely remember what it tasted like.
Now, thanks to Sugimoto Tea, I will do a proper review of an asamushi (light steamed) sencha of this wonderful cultivar.
It's a first harvest sencha from 2021, made in Shizuoka prefecture.
The review that I should have made years ago
For people that are into single cultivar Japanese tea, Koushun is quite popular.
It's easy to understand this once you smell it.
Such a deep sweetness.
It also has herbal tones.
While the fragrance is fresh, it isn't as vegetal as sencha made with the Yabukita cultivar.
The leaves have a desirable color and shape.
Some are broken down, but the rest are thin and have a dark green color with luster.
Let's prepare it.
One teaspoon of tea leaves, 60 ml (2 oz) of water at 80 ºC (176ºF), and an infusion time of one minute and a half.
The wet leaves have a marine aroma, it even seems salty.
It's still somewhat herbal, with an overall freshness.
Now let's take a look at the liquor.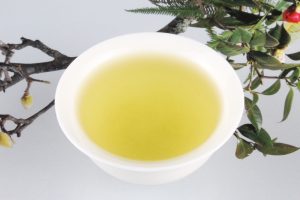 A clear yellow color.
What does it taste like?
The main thing that I feel is a bold umami taste.
It's as if it were a gyokuro.
This tea isn't bitter nor astringent.
There's a fresh and long aftertaste too.
I think that it's balanced, but in a different way than the Yabukita cultivar.
Still, the marine tones make it feel like the classic Japanese green tea.
But this tasting isn't over. Let's make another infusion.
I halved the time, and now there's a liquor with a darker yellow color and a green hue.
This also tastes good, but the umami taste isn't as intense as before.
I halved the time once more for the third infusion.
Now it is lighter in both color and taste.
Still pleasant, nevertheless.
I'm not sure how to explain it. This cultivar is very different in some aspects but familiar in others.
So to me it's a delicious version of what I've always liked about sencha.
From now on I'll consider it one of my favorites.