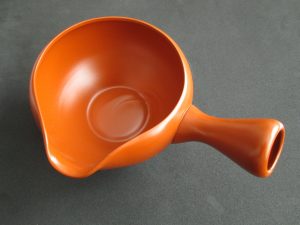 I was looking for this type of yuzamashi (湯冷まし, water cooler) but it was very difficult to find. Luckily, I was able to buy it from Sugimoto America.
This cooling pot is made in Aichi prefecture, where the famous Tokoname kyusu (a type of Japanese teapot) is also made. The ceramics in this region are called Tokoname yaki (常滑焼) and have a very long history.
Why I find this yuzamashi useful
I have an electric kettle with variable temperature, but I always set the temperature to boiling. The reason for this is that I may brew different teas (I usually have tea tastings with my friends), hence I can't quickly adjust the temperature for my kettle and prefer to just cool the hot water.
One method to cool water at 10°C intervals is to pour it into a container (such as a cup or a teapot) and  wait some time before pouring it back again. For example, for sencha you pour the boiling water into the cups first, and after waiting a bit, pour that water into the teapot with the tea leaves.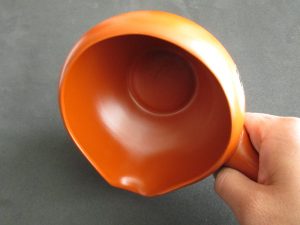 However, sometimes the cups become too hot to handle properly, and it's easy to spill water.
I find that in that respect, the yuzamashi works better. Because of it's handle, you won't feel the heat, plus it also looks nicer.
When making matcha, you have to whisk it in directly in the matcha bowl (note that I don't brew it like in the tea ceremony, just in a casual way). So how can I cool the water if there's no teapot and only one matcha bowl? That's when the yuzamashi becomes handy again.
I really liked this yuzamashi, it has a simple yet beautiful design.