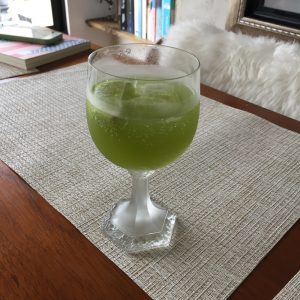 Last week I held a Japanese food and tea pairing with my friend Kayoko.
At the end, we served a tea cocktail: the sencha vodka tonic.
It was a big hit 🙂
Instead of a gin tonic, the vodka tonic is a better option because of its cleaner taste.
That means that it is easier to taste the sencha in this cocktail.
Sencha vodka tonic recipe
These are the ingredients:
sencha
vodka
tonic water
ice
lime wedge
There are two options. You could just mix some vodka with matcha, or infuse a fukamushi sencha (because it has a greener color) in vodka.
Here's my post about infusing green tea in alcohol.
Once you have mixed both, you'll need 30 ml (1 oz) per serving.
Add ice to a 180 ml (6 oz) glass or similar. Then add the 30 ml of the green tea and vodka mixture.
Top with tonic water, stir gently and garnish with a lime wedge.
It has just the right of amount of astringency, bitterness and sweetness. I'm surprised that it turned out so well.
This cocktail is also as refreshing as its green color suggests.
If you want to make the non-alcoholic version, just add the tea instead of the vodka.