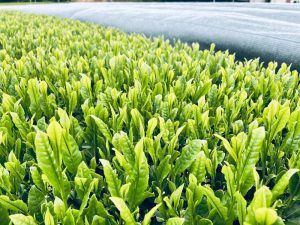 Sayamaakari (さやまあかり) is basically an upgraded Sayamakaori.
Its name means "Sayama light".
The name was chosen with the hope that it will shine a bright light upon the future of the tea industry of Sayama prefecture.
History of Sayamaakari
In 1981 at the Sayama prefecture tea industry research center, the Sayamakaori cultivar was crossed with a cultivar called Sai 60F1-148 (埼60F1-148).
Sai 60F1-148 is in part from Taiwan.
After the best seedling was selected, it underwent tests.
In 2017 the application for registration under the Seed and seedling law was submitted.
And finally in 2021 it became registered. The whole process took 40 years.
The cultivar was named Sayamaakari, meant for sencha production.
Characteristics of Sayamaakari
Sayamaakari can be picked one or two days earlier than Yabukita.
It has more yield at harvest than Sayamakaori, which in turn has a higher yield than Yabukita.
Young leaves of this cultivar are slightly longer than those of Yabukita, and have a a light green color.
This color is important because once infused, the liquor's color is judged as better than the liquor of Sayamakaori.
This cultivar is also resistant to cold weather.
Sayamaakari is strong against the white peach scale, has a medium resistance to anthracnose, but is weak against the gray blight.
As a sencha, it offers a good umami taste and a slight astringency.
We'll probably be seeing more of this cultivar in the near future.