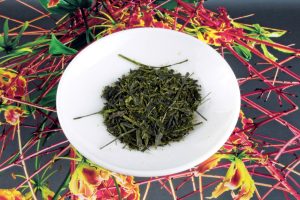 I'm a big fan of Asatsuyu, because this cultivar results in a sencha with a bold umami taste.
That's why I'm happy to review this tea.
Dobashien is a tea company with more than 100 years of history.
This tea is a fukamashi sencha made in Shizuoka prefecture.
Furthermore, it's from the spring harvest.
What will it taste like?
The aroma is very fresh and sweet, with citrus notes.
It does feel like a high quality green tea.
The tea leaves are mostly broken, although some intact ones remain.
Broken tea leaves are normal for this type of tea.
The deep steaming makes them very fragile.
I think that it may be a blend, because some of them are much thinner than the others.
I'll prepare it with 1 teaspoon of tea leaves, 60 ml of water (2 oz) at 80 ºC (176ºF), and with an infusion time of 40 seconds.
The wet leaves have a deeply vegetal fragrance, with marine notes.
It also smells fresh and lightly sweet.
While it's hard to explain the exact aroma in words, I can feel that it's definitely different than the one from a sencha made with Yabukita.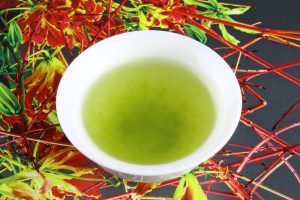 The liquor is green, with sediment.
It looks as if it was a thick liquid.
I do hope that it is brothy and concentrated, but without losing balance.
Enough talking, I'll just taste it.
Much body, with high umami.
Also a fresh and long aftertaste.
This isn't bitter nor astringent at all.
A delicious green tea.
Now it's time for the second infusion.
Same parameters, except that the time was halved. 20 seconds.
The liquor has about the same color.
There's still umami taste, and no bitterness nor astringency.
Quite pleasant.
I used 10 seconds for the third infusion.
A darker liquor, but much less umami taste.
At least it still isn't bitter nor astringent.
To get the rest of the flavor out, I made the last infusion with boiling water.
Just 5 seconds.
This time it did became slightly astringent.
It's light in flavor. But drinkable.
I enjoyed the experience.
But it isn't over yet.
Now I'll eat a small amount of the spent leaves.
They aren't bitter at all. It's a fine green tea.
Here's the link to the tea in Yunomi.