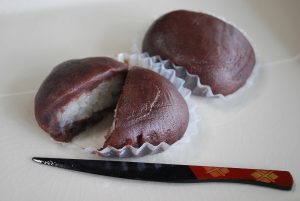 Ohagi (おはぎ) is a traditional Japanese sweet (wagashi). It's also called botamochi.
It consists of steamed mochi rice, sometimes with the addition of uruchimai (the standard Japanese rice).
The rice is pounded into a paste, but only halfway. In other words, there are still plenty of rice kernels left.
It's often covered in sweet bean paste (anko), but other ingredients can be used, such as roasted soybean flour (kinako) and sesame.
Ohagi is used as an offering to the deceased during ohigan, which happens in spring and autumn.
On those holidays, Japanese people visit the graves of their loved ones and bring these sweets. They eat them afterwards.
Nowadays, ohagi is enjoyed all year round.
I like this it. The mochi rice is very chewy.
It isn't as popular as the daifuku, but in my opinion it's an easier recipe.
Here's one video I found online for you to see the recipe.