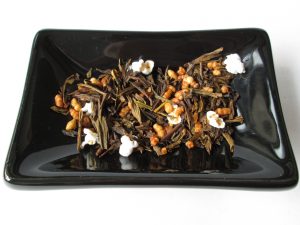 This tea is uncommon, it's the first time that I try a houjicha with genmai.
Also called houji genmaicha in Japan, it's made of houjicha with roasted rice.
Since I love genmaicha, I was really excited about this tea review. Trying out a new tea is always fun!
Let the tasting begin
As soon as I opened the package I noticed the characteristic roasted smell of houjicha. I've always liked this smell, if you like the smell of coffee you'll like the aroma of houjicha too.
The leaves are brownish, because of the roasting process. The roasted rice and some popped rice gives this tea a good look, in my opinion.
The type of roast is dark, but not heavily roasted. You can tell from both the color of the leaves and the smell.
First infusion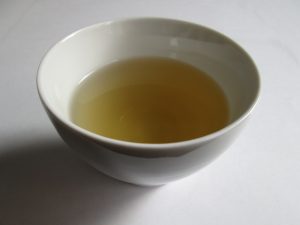 Although the product page of Sakao Enterprise has a brewing guideline of 82°C water and 1-3 minutes, I decided to brew it in the same way as houjicha and genmaicha, for the sake of consistency.
That is, 4 grams of tea per 120 ml of boiling water, and brew for 30 seconds.
The liquid's color is darker than that of genmaicha but pale when compared to houjicha.
Now I can smell the nutty aroma of the roasted rice, which wasn't there when I smelled the tea leaves. Of course, the smoky aroma is there as well.
I drank it and felt very low astringency and no bitterness. I thought the houjicha flavor would overpower the roasted rice but it isn't the case. It's easy to drink, and as a bonus, very low in caffeine.
Next, I made a second infusion with the same temperature and same time. The result was pretty much the same tea, which pleases me.
I found this quite enjoyable and a good alternative to houjicha, but I'm biased because I like genmaicha so much 🙂
Try this tea from Sakao Enterprise, it has a very good price.