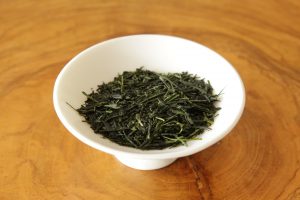 Tea farmer Shuichirou Sakamoto (修一郎坂元) was at the 2017 World Tea Expo in JETRO's booth.
I tried his cold brewed gyokuro and it was very good.
However, I didn't have a chance to talk to him.
But I did receive a sample, hence I was able to review it.
This tea is made in Kagoshima prefecture, and is JAS certified organic.
I believe that it's made with the Yabukita cultivar.
Mr. Sakamoto developed his own organic fermented fertilizer, which is the key to this tea's quality.
Time to taste the umami flavor
As always, I first payed attention to the aroma of the tea leaves inside the package.
Just like any decent gyokuro, it felt sweet and creamy. Perhaps the smell was a bit light, but nevertheless I liked it.
The tea has very beautiful leaves. Good color, shine, size, and only a few are broken.
A high quality gyokuro for sure.
The brewing parameters I used are: 4 grams of tea, and 20 ml (2 oz) of water at 60 °C (140 °F) for a 2 minute infusion.
After adding the water, I could feel a pleasant aroma.
Once served, the wet leaves still gave off a sweet smell. There was a marine quality to them.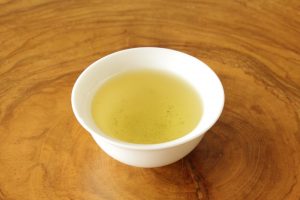 The liquor was a light yellow color, it had a good appearance.
I tasted an intense umami flavor, which is what I love about gyokuro.
There was a also a light sweetness, even in the aftertaste.
I didn't find it bitter nor astringent. It's a very good tea.
After that I made a second infusion with the same time and temperature.
The result was a tea with body and a lot of umami. The aftertaste was long too, very enjoyable.
At the third infusion, the color became greener and there was less umami. Some bitterness and astringency resulted.
Finally, I made a fourth infusion and decided to decrease the time to one minute and increase the temperature to 80 °C (176 °F).
That last infusion tasted like a sencha. Not bitter at all, but kind of light. Still satisfying, in my opinion.
Definitely a well made gyokuro.
The company doesn't have a website, but you can contact Mr. Sakamoto at the following email address: s-sakamoto@btvm.ne.jp