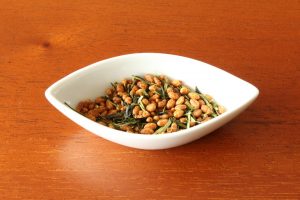 I enjoy genmaicha at least once every few days, it's one of my favorite teas.
It's definitely the favorite tea of my wife. She likes to drink it after lunch.
So naturally, I was excited to review this genmaicha from Rishouen Tea out of the different samples that they gave me.
It's made with sencha, and it's also the most popular genmaicha that the company sells.
They have four types of genmaicha according to their website. The ones above this one have mochi rice, which is more expensive. There is also a cheaper one that isn't made with sencha.
Let's start this tea review
At first the tea looked kind of odd. The rice seems much bigger than normal.
What happens is that the sencha leaves are quite small. But judging by their appearance, they are high quality tea leaves.
Just for the visual appeal, I would have liked a higher proportion of sencha leaves. But I'm not sure about how it would taste.
The flavor is more important than a tea's appearance, in my opinion.
Anyway, there are also some tea stems which add more sweetness to the aroma. I'm getting more excited about tasting it.
I thought that this tea had a more vegetal aroma and sweetness than the usual genmaicha made with bancha.
Just like any other genmaicha, I prepared it with 120 ml (4 oz) of boiling water and infused for 30 seconds.
The wet tea leaves have a pleasant aroma which mostly consists of roasted rice.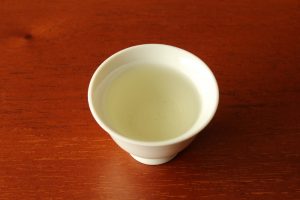 I liked the color of the liquor. Instead of yellow, this one was clear with a touch of green.
As I drank it, I could feel the difference that the sencha makes.
There was sweetness, umami, the nutty taste of the rice, and it was well balanced.
It's very good.
My wife and I liked this genmaicha. She decided that she will drink what's left of the sample 🙂