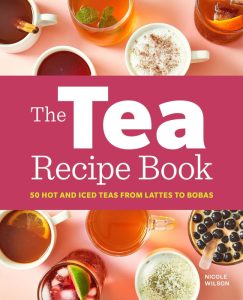 This book is from Nicole Wilson, a fellow tea blogger.
She published the book about a year ago, but I hadn't bought it because I mostly drink straight loose leaf tea.
However, my daughter recently discovered bubble tea and she likes it, so I decided to take a look at this book's recipes.
By the way, cooking is one of my hobbies. I want to try cooking treats for tea, which is another reason to read this book.
The first chapter is about the basics of tea and tisanes.
Types of tea, brewing methods, teaware, etc.
For someone like me it's not new information, but for the people that are starting to get into tea it will be useful.
Chapter two has recipes for hot and iced teas.
Most of them are either flavored or blends, and include herbal teas.
Again, not my preferred beverages, but I'm sure most people will like them.
The third chapter is similar. It has recipes for lattes.
Chapter four is the one that interests me the most.
It starts with a recipe for homemade boba, the chewy balls in bubble tea.
I'm definitely going to try that recipe.
After that there are bubble tea recipes, as well as some milk tea.
It seemed odd to me that the milk teas weren't included in the tea latte section.
Next is another chapter that I found liked: cocktails and mocktails.
I would love to try the tea sangria.
When I was young, I used to make different cocktails at parties.
And the last chapter is about tea treats recipes, such as scones and crumpets.
The only thing that I would add to this book is more pictures.
It has very few, in my opinion. There should be at least one picture every two or three recipes.
Here's the Amazon link, I bought the ebook version.