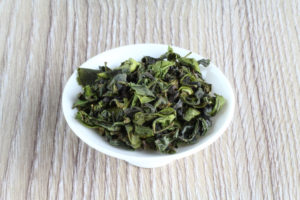 Miyazaki Sabo has been growing tea without fertilizers or pesticides for over 30 years.
I haven't tasted their teas. They seem to be experts at making kamairicha.
By the way, I received this sample from Yunomi.
As you might have guessed by the name of the company, this tea is made in Miyazaki prefecture.
Another interesting thing about this oolong is that it is from the Saemidori cultivar.
This will the first time that I taste this cultivar in the form of an oolong.
Tasting a single cultivar oolong
While my favorite is green tea, I think that oolong would be my second favorite.
But it's not like I know a lot about this type of tea, since I'm almost always drinking green tea.
The tea leaves have sweet and floral aroma. It loosely reminds me of chamomile, but I can't describe precisely what kind of aroma it is.
I like the appearance of the tea leaves because they are big and very different from most teas.
They are loosely curled up and have a rough texture.
I'll try 4 grams of tea leaves with 120 ml (4 oz) of boiling water for 30 seconds.
The wet leaf aroma is floral, sweet, and somewhat vegetal.
I want to point out that it isn't very sweet like many Taiwanese oolongs that I've tried. It's lighter.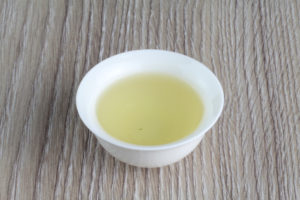 Let's try this yellow liquor.
It has a light flavor. Not bitter nor astringent, it's quite pleasant.
There's body to it, but not as much as a sencha, for example.
The second infusion prepared in the same manner still has a lot of flavor. But the sweetness feels lower.
I liked this cup of tea too.
A third infusion feels very similar to the second one.
Then I made a fourth one and it was much lighter in flavor.
As I expected it, the fifth infusion felt watered down.
I think that it is an enjoyable tea. I'm looking forward to drinking it again this week.
Here's the product page in Yunomi.