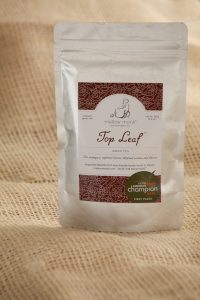 Top Leaf is a first flush tamaryokucha from the Aso region of Kumamoto prefecture.
It comes in a 100 gr (3.5 oz) resealable bag and as as you can see in the picture below, the leaves are somewhat curly instead of straight. This is a main characteristic of tamaryokucha.
Mellow Monk sells artisanal Japanese green teas with excellent quality, and Top Leaf is one of the prime examples.
It's called that way because it consists of the youngest, topmost leaves.
Top Leaf won first place in the steamed green tea category of the North American Tea Championship in 2011. Let's see just how wonderful it really is.
Putting it to the test

The aroma of the loose leaves is quite good. Although a bit fainter than what I'd consider standard sencha, it is still superb.
It has a sweet and refreshing smell, from that alone you can tell that it's a high grade green tea.
The instructions from Mellow Monk are to use water at 75°C (167°F), one teaspoon of leaves and to brew for 1 to 2 minutes.
I followed this guidelines with 1 minute and to be more specific, 60 ml (2 oz) of water.
The steeped tea has a bright yellow color. It smells very much like sencha. I wanted to try it quickly before it cooled any longer 🙂
And now the best part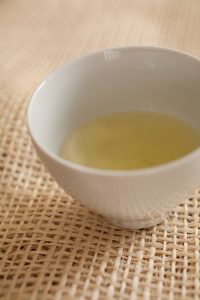 From the first sip you can tell that it's indeed first flush. If you've tried gyokuro before, then you'll understand that specific taste.
It also has some sweet notes with fruit components. The astringency is very light, and the bitterness is almost non existent.
I tried a second infusion (with this tea, it would be a crime not to do so) at the same temperature but only 40 seconds. Now it tastes like a very good sencha, although the more delicate flavors are not as apparent.
You can definitely go to a third and even more infusions, depending on your preferences. I found that after the fourth infusion it's not as enjoyable, but that's just me.
I highly recommend Top Leaf from Mellow Monk. You can't go wrong with this one.