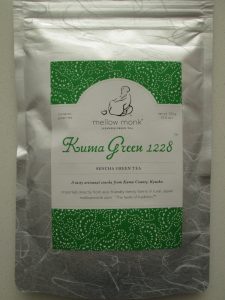 Kuma Green 1228 is an artisanal green tea from the Kumamoto prefecture of Japan.
The reason it has 1228 in its name, is that it's the address of the tea estate in Sagara village.
I've always liked the teas from Mellow Monk, let's see how this one tastes like.
Kuma green 1228 Review
I opened the package and felt a very fresh aroma. Besides the familiar Japanese green tea smell, I think it also has tones of citrus.
As you can see in the picture, the leaves are dark green and somewhat bent or even curly. This is so because Kumamoto produces tamaryokucha, a tea that doesn't have the needle shape found in sencha because the last step in its processing is different.
Ready to brew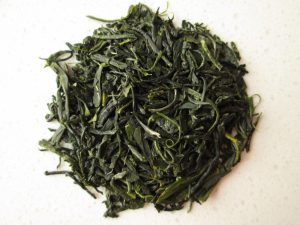 I used 4 grams of tea, 60 ml (2 oz) of water at 75°C (167°F), and 1 minute of brewing time for the first infusion.
The instructions from Mellow Monk are a little different, but I like to have a standard way to brew similar teas so that I can compare them fairly.
The liquid's color is very nice, a yellow with a slight green hue. The aroma isn't too strong, but I could smell sweetness and it reminded me of grapes. I found it quite unique.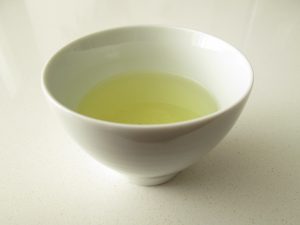 The taste is definitely that of a high quality tea. While it doesn't say if it's first-flush or not, it tastes like it.
Astringency and bitterness are low as well, just as you would expect.
Second infusion
The tasting isn't over yet!
I made a second infusion with the same temperature and time.
The aroma and color are about the same. Regarding taste, I found that it's now a little more bitter, but nothing that you won't enjoy.
You can also make a third infusion if you want.
This is a great tea, and I also had fun writing this review. I couldn't ask for more.