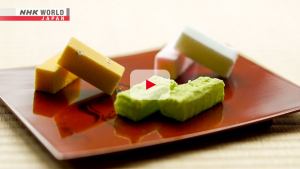 This documentary aired on February of 2023 in NHK World.
Wagashi are traditional Japanese sweets. They are often enjoyed with green tea.
Matsue city (松江市), is one of the 3 most famous places in Japan for wagashi.
The other two are Kyoto and Kanazawa.
The video is a little less than 30 minutes long, but time passed away quickly while I was watching it because it was fascinating.
All the sweets looked beautiful and delicious.
Another interesting thing about this documentary is the part where tea is served at a family's house.
It looks like a roasted bancha.
While the specific type of tea isn't mentioned, I'm pretty sure that it's Hakuta bancha.
I want to visit Matsue city one day.
In my case, eating such refined wagashi and drinking green tea would be like being in heaven.