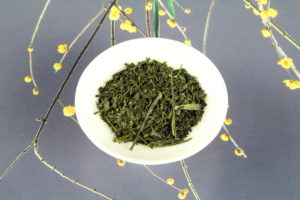 This tea by Maruyamaen caught my interest because it's a blend that I hadn't tasted before.
It consists of a fukamushi sencha with a gyokuro from Uji.
I received this sample from Ippin, they have been very generous with me.
Have you ever wondered if sencha and gyokuro work well together? Let's find out.
Tasting a sencha and gyokuro blend
The loose leaves have a sweet and creamy aroma, very much like a gyokuro or high grade sencha, but it isn't very intense.
For a fukamushi sencha appearance isn't as important, but I immediately noticed that the tea leaves were not very similar.
Some are very broken down, but others are much bigger, and there are also long and thin leaves which might be from the gyokuro.
I prepared the tea as a fukamushi sencha, so that meant 60 ml (2 oz) of water at 80 °C (176 °F) for an infusion time of 40 seconds.
The wet leaves had a pleasant marine fragrance with vegetal notes.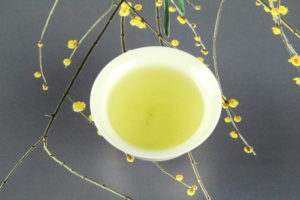 I also liked the liquor, it has a green color with some sediment.
This tea has some body to it, it gave me a sense of being soft and delicate.
There is some sweetness, noticeable umami flavor, and it isn't astringent nor bitter.
I was expecting a more powerful umami taste, but it wasn't the case.
Anyway, I enjoyed it.
For the second infusion, I lowered the time to 30 seconds and kept the same temperature.
This time it felt bolder, but not bitter nor astringent. I liked this infusion the best.
Time for a third infusion. Same temperature but only 15 seconds of infusion time.
The liquor is now dark green.
While it isn't bitter, some astringency is present. There isn't umami taste left.
But still worth drinking.
For the fourth and final infusion I used boiling water for a few seconds.
It still has some sweetness, but there's a slight bitterness.
Not a bad taste.
My conclusion is that this is a balanced green tea, but it isn't of a high grade.
A high quality sencha or gyokuro by themselves are better than this blend, which seems like a mid level tea.
But it is definitely a good everyday tea.
I will be drinking the rest of the sample in the following weeks.