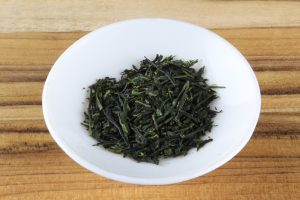 I visited Maiko Tea many years ago when I was on a tea tour in Kyoto prefecture.
What I remember the most is that they served me a gyokuro that was absolutely delicious.
Kyotanabe, where this company is located, is well known for its high quality gyokuro.
They were kind enough to send me samples, so I'll start with this kuradashi (aged) gyokuro named nomigoro, which can be translated as "good time to drink".
This tea was kept in cold storage for 5 years.
Tasting an aged gyokuro
The tea leaves have a fresh, vegetal and sweet aroma.
It isn't an intense fragrance.
But it is good nevertheless.
Some of the tea leaves are broken down, but other than that they look great.
They are small and thin, with a nice color and luster.
I'll prepare it with 4 grams, 20 ml (2/3 oz) of water at 60°C (140°F), for 2 minutes.
After the infusion, the wet leaves emit a stronger aroma than before.
Vegetal and sweet. Not so marine.
I like it.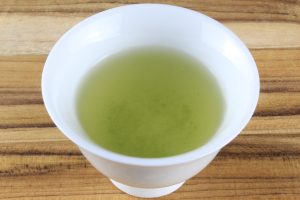 It's time to drink this green broth.
Wow, it is a pure umami taste.
A sweet and refreshing liquor with lots of body.
This tea is definitely mellow, I thought that it would have a sharper taste.
It's such a treat.
But it was over quickly. Let's do another infusion.
I lowered the time to a minute and a half.
Same color, and very similar taste as the first infusion.
It holds its flavor, which is great.
A third infusion with 70°C (158°F) for one minute felt like a light sencha.
It lost umami, but it was enjoyable.
No bitterness nor astringency yet.
Now let's try 80ºC (176ºF) for 30 seconds.
This fourth infusion has a light taste with some astringency.
Not much umami taste, but at least it isn't bitter at all.
Just to make sure that it has something left, I used boiling water for 5 seconds.
Well, it's too watery for my taste now.
Since these are high quality tea leaves, I decided to eat them.
Incredibly, the leaves aren't bitter.
A delicious tea all the way to the spent leaves.
Here's the product link in Maiko Tea.