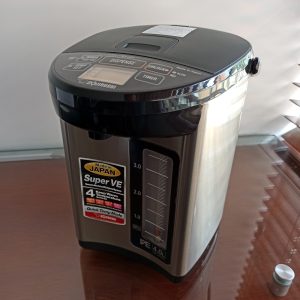 The first time I saw a Zojirushi water boiler was when I lived in Japan.
It's a popular brand there.
I bought one when I left Japan and I was very happy with it.
It lasted 8 years.
After months of saving, I finally bought the latest model: the CV-JAC40.
There's also the CV-JAC50, with the only difference that it holds 5 liters (169 oz) of water instead of 4 (135 oz).
VE hybrid means that it uses both vacuum and electric technology to keep water at a certain temperature with a minimal power consumption.
In fact, I keep mine plugged in all day and haven't noticed a significant change in my electric bill.
What's so special about it?
The lid is detachable, which makes filling very easy.
The swivel base rotates 360 degrees, and there's also a handle which is great for carrying the kettle around.
It will boil the water, and then keep it at the desired temperature: 160°F (71°C), 175°F (79°C), 195°F (90°C), and 208°F (97°C).
I just keep mine at 195°F, and in that case the whole process of boiling and then cooling to that temperature takes about 50 minutes.
Yes, 50 minutes is a long time, but keep in mind that after that you'll have hot water instantly all day with the push of a button.
That's what I like the best about this type of electric kettle. No more waiting for hot water before you prepare your tea.
Since it has a timer, you can set it the day before so that the hot water is ready when you wake up.
Although you can set it to different temperatures, it takes a while to go from one to another.
That's why I prefer to just have 195°F water and then cool it myself in case that I need to drink a tea that needs a lower temperature.
In terms of green tea, I often prepare teas like genmaicha (high temperature) and sencha (hot but not boiling water).
Once you serve, it won't drip afterwards.
And you can pour at a slower pace with the cafe drip dispensing mode.
There's also a function to reach a specified temperature without boiling first, but I've never used that setting.
Finally, it has a water level indicator.
In my opinion, this is the best electric kettle for everyday tea drinking.
I also use it for cooking, for example for making gelatin or to shorten the amount of time to boil pasta on the stove.