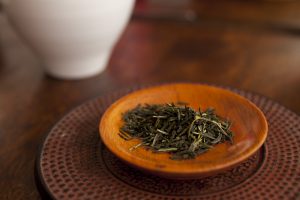 This isn't a type of sencha but rather an herbal tea made from mulberry leaf and processed in the same way as sencha.
Kuwacha is a healthy tea that has a long tradition in Japan and it's of Chinese origin.
The leaves do look similar to sencha leaves. They are rolled into the familiar needle-shape and have a dark green color.
I can't really describe its smell, but it is very different to that of green tea leaves. It feels like if you're smelling some kind of spice, if that makes sense.
About the maker
The Eitoku company has a moving story behind it. The founder, Norifumi Sato, lived in Kesennuma city, where he ran a small store. Unfortunately, he lost both his house and his store in the 2011 tsunami.
Norifumi had little choice but to start again in order to support his family. His decision was to start a kuwacha business, even though he still lives in a temporary housing facility. His kuwacha is organic and is available in powder and rolled leaf form.
Tasting kuwacha sencha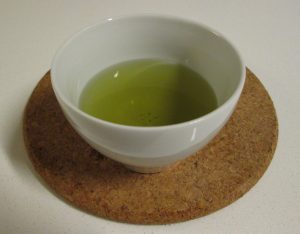 I followed the instructions, which say that it must be brewed just like sencha. That is, 4 gr of kuwacha leaves per 60 ml (2 oz) of water at 70ºC (158ºF) with one minute of steeping time.
The liquid is a deep green, much darker than sencha.
Kuwacha's taste is quite different from green tea. I found it to have some sweetness and almost no bitterness, it's not hard to drink at all.
If you want to give kuwacha a try, you can order it from yunomi.life and help rebuild the city of Kesennuma.