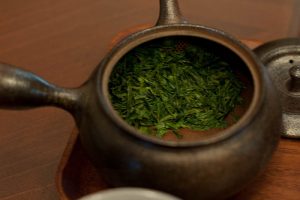 Shincha is one of the best green teas that Japan has to offer.
It's a seasonal tea, because it's only available during the first flush.
I hadn't written about brewing shincha, but better late than never.
In truth, I used to brew it just like a sencha.
First of all I must say that there are different recommendations online, and at the end you should go by your personal taste, don't just blindly follow what you read in this or any other tea blog 🙂
In other words, start with the general guideline and then experiment from there.
I did a preliminary research in Japanese websites, and found out that shincha is often brewed at 80 °C (176 °F).
This is counterintuitive because for higher grades of green tea it's often better to brew at lower temperatures.
Eventually, this video from Kurihara Tea, plus other sources that described the same or similar parameters convinced me to prepare it that way.
It's actually similar to the way that you would brew a fukamushi sencha.
Shincha brewing guidelines
Use 2 to 3 grams of shincha, 60 ml (2 oz) of water at 80 °C (176 °F), and infuse for 40 seconds.
The rationale is that by keeping the water at 80 °C, the aroma of this green tea is intensified. Also, the short brewing time keeps it from becoming bitter.
For the next re-infusions you can keep the same parameters, or perhaps shorten the infusion time.
As a side note, if it's a fukamushi shincha, you should use 30 seconds and maybe consider lowering the temperature to 70 °C (158 °F). This type of tea can become bitter easily.
I've been preparing shincha this way and have liked it very much. Too bad I already drank most of it.
I guess I'll have to wait until next year.