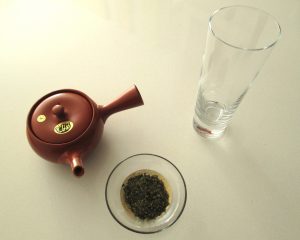 I hadn't tasted a green tea soda before, so this week's tea project was to make my own.
Tea sodas are fairly popular, you'll find commercial versions as well.
It's basically a  tea that has sparkling water in it, and you drink it cold.
There are a lot of recipes online, so what I did was try different ones and select the best.
I'm saving you the trouble by finding a good green tea recipe for tea lovers!
Initial experiments
Commercial green tea sodas have added flavoring and color. I won't be using those, and plan to keep sweeteners optional. I prefer unsweetened.
Tea bags or instant iced tea powder are out of this recipe. The idea is to have a good quality, healthy soda.
For the ratio of brewed tea to sparkling water, I found recipes ranging from 1/4 tea up to 3/4 tea. I tried them and felt that anything below 3/4 tea had a flavor that was too faint.
The green tea I chose for this recipe was bancha, but you can have any tea you like. Use the leaf to water ratio that you usually brew with, and you may increase the steeping time if you want a stronger flavor.
Green tea soda recipe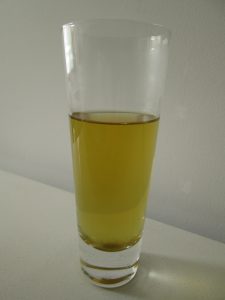 Ingredients:
Green tea leaves, enough to make 3/4 volume of tea in your glass
Hot water
Sparkling water, cooled
The glass I used holds about 300 ml (10 oz), so what I did was make 225 ml (7.5 oz) of bancha in my teapot.
Pour the tea into your glass, and let it cool. If you want, you can place it in the refrigerator.
Once the tea has cooled, just top the glass with sparkling water. No need to mix it.
At this point, you can sweeten it and add ice if you wish. In my case, I didn't add anything else.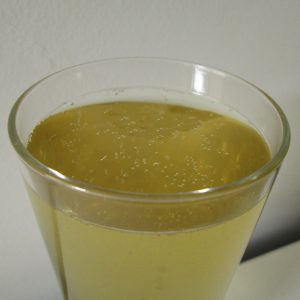 I liked the taste, it definitely tastes like tea 🙂
The sparkling water adds a nice touch. Why buy soft drinks when you can make your own tea soda?