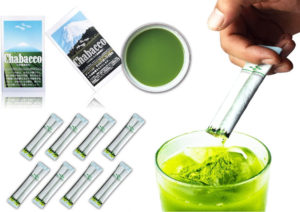 If you don't smoke, you might want to buy chabacco in Japan instead of tobacco.
It's a powdered green tea, sold in a package that looks just like a pack of cigarettes.
The vending machines used are also the same ones as for cigarettes.
Another amusing thing is that the cigarette warning label says: "Chabacco's flavor may improve the mood of the people around you".
According to an interview I read, the idea of chabacco came up as a play on words.
Tobacco and chabako (tea box) are such different things that it seemed like a fun and memorable way to sell tea.
If I'm not mistaken, the chabacco vending machines were first introduced in Shizuoka prefecture, but now there are present in may prefectures throughout Japan.
Interestingly, not only can one choose between different powdered teas such as fukamushi sencha, houjicha and genmaicha, but each prefecture sells its own teas.
So this makes chabacco a collector's item and a souvenir.
Here's a short video about it:
Finally, in this link you can see the map of chabacco vending machines in Japan. It is written in Japanese, however.