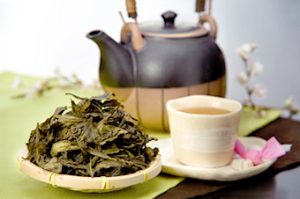 Awa bancha (阿波晩茶) is a traditional dark tea from Tokushima prefecture.
Awa was an old province in what is now Tokushima prefecture. It is now used as another word for Tokushima.
Even though it has the word "bancha" in its name, it's often spelled differently in an attempt to set it apart from the standard bancha.
In essence, awa bancha is a pickled tea, and as such is has a slightly sour taste.
How Awa bancha is made
Once a year, in the middle of summer, mature leaves from what are usually wild tea plants are stripped from the branches.
Then the leaves are boiled until one can see that they have discolored. This step also stops the process of oxidation.
Next, the leaves are rubbed against each other, or they can be rolled by a machine just like other Japanese teas.
The tea leaves are then placed in a barrel and sealed for the fermentation process, which can last up to a month.
This anaerobic fermentation happens because of lactic acid bacteria. It's the same way that milk is fermented into yogurt.
By the way, this type of  fermentation also happens in goishicha, another Japanese dark tea.
The last step is to dry the Awa bancha under the sun for a day.
How to brew Awa bancha
The traditional way to steep Awa bancha is to use 5 grams of tea with 1 liter of boiling water. Keep the water boiling with the leaves and let brew for 2 minutes.
If you're using a 360 ml kyusu, you can add boiling water to the same 5 grams and infuse for 3 minutes. You can re-infuse the tea more times if you wish.
In the next post, I'll review an Awa bancha so that you can get an idea of what it tastes like.