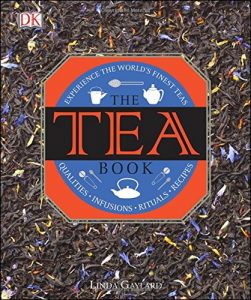 I was pleasantly surprised to learn that Linda Gaylard from The Tea Stylist had published a book about tea.
A tea lover can never have too many tea books, so I immediately purchased it in order to share this review with you.
It's a hard cover book with 224 pages, but I found it quite easy to read.
What impressed me the most was how visually appealing it is. There are pictures, illustrations and infographics in every page.
The first part of the book covers the basics. This includes the tea plant, harvest and processing, types of tea and its health benefits.
Next comes the chapter of brewing tea.
It's not only about guidelines for preparing each type of tea. There's information about flavors, water, brewing equipment, and also blending recipes.
The section of the book that I liked best was about teas of the world. It's an introduction to each country and its tea customs.
I was happy to see that Linda included many countries that aren't often talked in tea books such as South Korea, Turkey, Nepal, Thailand, and even the United States.
The fourth chapter is reserved for tisanes. As an enthusiast of real tea, I don't drink tisanes that often, but it was a good chapter to read nevertheless.
At the end, there are many recipes of beverages using tea and tisanes. I'm definitely going to try some of them at home.
This book does a wonderful job at easily covering a lot of vital information without being too technical. It's a good book for both novice and advanced tea enthusiasts.
You can buy it from Amazon. You won't be disappointed.