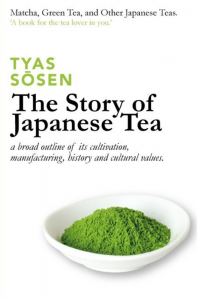 I learned about this book from the author himself, Tyas Sōsen of The Tea Crane. I follow him on Facebook.
Without thinking it twice, I bought it in order to share this review.
After a brief introduction, the book has six chapters:
Chapter 1: green tea – cultivation
In this chapter Tyas explains what green tea is, and all the different aspects of cultivation such as harvesting methods and cultivars.
He also states the difference between conventional farming, organic farming, and natural farming.
Tyas prefers teas with natural farming. All of the case studies in the book are about natural tea farms.
Chapter 2: green tea – manufacturing
This chapter is about green tea processing.
It also includes green tea that isn't steamed, kamairicha.
I liked that he included the manual processing as well.
At the end there is a section on tea refining.
Chapter 3: matcha
In this part of the book Tyas includes a detailed history of matcha, which could easily be its own chapter.
Then there are sections on harvesting, processing, and quality of matcha.
Chapter 4: oxidized tea
A very interesting chapter. It's about Japanese oolong and black tea.
I had seen few information on the subject until now.
Chapter 5: bancha
This short chapter is about the types of bancha, including post-fermented bancha.
All the information here is quite detailed too.
Chapter 6: drinking tea
The final chapter is about actually preparing the tea.
I agree with Tyas' recommendation regarding brewing guidelines: "memorize them, use them, and forget them". Meaning that one should start with the basics and then adjust according to preference.
In this chapter there are also guidelines for assessing and preserving a tea.
My thoughts on this book
I liked the book, many parts were very interesting and with information that I hadn't seen before.
There could have been more pictures, for example there are actually no pictures of finished tea leaves or a prepared tea.
By the way, I bought the Kindle version, I'm not sure if this also happens in the physical book.
The title says that it is "a broad outline of its cultivation, manufacturing, history and cultural values".
While I understand the content perfectly due to my experience with Japanese tea, I think that it might not be so easy for a beginner to follow.
Tyas doesn't believe that umami should be a prominent taste in Japanese tea because it involves the use of fertilizers, and also thinks that if it had a withering processes it would be more in line with the traditional flavor of the past, among other things.
Perhaps the focus of the book could have shifted to the specific topic of natural teas. There's a lot of material that can be covered there.
Nevertheless, I can recommend the book for medium to advanced tea drinkers.
You will wind many interesting insights into the world of Japanese tea.
Here's the link to the Kindle version in Amazon.