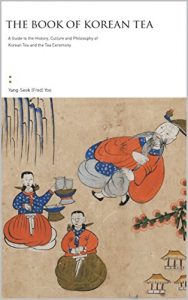 After attending the seminar of Fred Yoo about Korean tea at the World Tea Expo, I couldn't resist buying his book.
I know next to nothing about the subject, so it's a good addition to my tea book collection.
The first part of the book introduces Korean tea and its culture.
This includes the producing regions, types of Korean tea, etc.
Next the author explains the history and development of tea utensils.
A very interesting thing is that he actually translates two Korean tea classics: "The Story of Tea God" and "In Praise of Korean Tea".
The section about making Korean tea was my favorite. It's about harversting, processing and also how to brew Korean tea.
I would have wanted more pictures and a more detailed explanation of the processing, though. But it was a good chapter nevertheless.
At the end, he talks about the different types of Korean tea ceremonies.
I really enjoyed the pictures of the Korean tea ware and also the ancient paintings throughout the book.
If you're interested, here's the link to the book in Amazon.