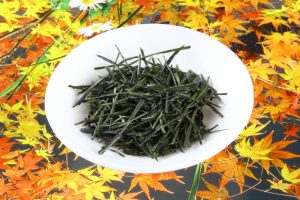 Since most Japanese tea is harvested by machine, obtaining one picked by hand isn't easy.
I'm very eager to taste this asamushi (light steamed) sencha from the Honyama region in Shizuoka prefecture.
This tea is from the Yabukita cultivar, first harvest of 2021.
Many thanks to Tezumi for sending me this precious sample.
A feast for the eyes
Machine picking often results in broken leaves. Since these leaves are picked by hand, they have a superior appearance.
And because this is a light steamed tea, the leaves kept their shape even more.
A better quality could be achieved if it was hand-rolled, but it would also be much more expensive.
Nevertheless, this sencha is just beautiful.
I find that the aroma to be very fresh and sweet.
It isn't a deep sweetness like a gyokuro. More like a smooth sweetness, if that makes sense.
I'll prepare it as follows: 4 grams of tea, 60 ml (2 oz) of water at 80ºC (176ºF), and 90 seconds (1.5 min) of infusion time.
Now I can feel a vegetal and marine aroma from the wet leaves.
It isn't as sweet this time.
Overall, it is a delicate fragrance.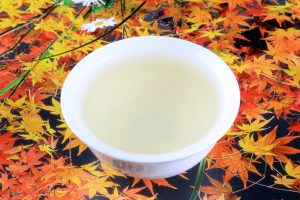 The liquor looks weak. A pale yellow color even after a relatively long infusion.
But this is normal for an asamushi sencha.
Let's give it a try.
It has a bold umami taste. Very good.
There's also a light sweetness and freshness, even in the aftertaste.
No bitterness, as one would expect. And astringency is very light.
In my opinion this is a good example of a classic, high quality sencha.
It's a pleasure to drink it.
Now I'll go ahead and make another infusion, lowering the time to 1 minute.
It has less umami taste but still a wonderful experience.
And to finish it, I'll infuse the wet leaves for just 30 seconds.
The result is a light but pleasant taste.
It still offers some sweetness.
Tomorrow it will be Mother's Day in my country.
I'll bring this tea along.
She's not really into tea, but a special person deserves to taste this special product.