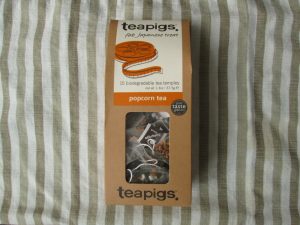 This is the first tea that I review for Teapigs, a company from the UK that has recently begun to sell tea in the US as well.
Popcorn tea is a nickname for genmaicha, although it's not used as much now.
There is no real popcorn in genmaicha, however. It's popped rice, although lately it could be something else like popped sorghum in an effort to lower costs.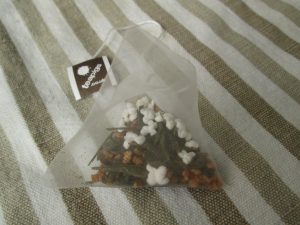 This tea comes in a recyclable packaging, and inside you can see the genmaicha tea bags. Don't worry, these aren't your usual tea bags because they have loose leaf tea inside and have more volume for tea leaves to expand.
The company calls them "tea temples", and they are made from a biodegradable material. Teapigs offers the convenience of a normal tea bag but with much more quality.
Popcorn tea tasting
Tea company's guideline is to brew for 3 minutes, and it doesn't mention re-infusions.
As usual, I'll be brewing similar teas in a consistent way, so what I did was to place the tea bag into a cup, add boiling water (about 120 ml) and steep for 30 seconds.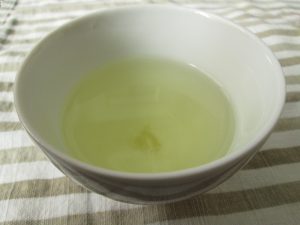 I can smell the aroma of roasted rice, it is very pleasant. The tea has a green color with a slight yellow hue. It also has a mellow taste with a nutty flavor and very little bitterness.
In my experience, the popped rice adds very little to the flavor of the tea. But it does makes the loose leaf tea look beautiful.
It's a standard loose leaf genmaicha with the convenience of a tea bag.