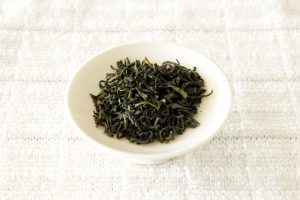 Teabento is an online tea store that has a good range of teas, and presents them in a cute manner.
This tea is called "Pika Cha". It has the illustration of a mouse.
I haven't drank a kamairicha in a long time, because this type of Japanese green tea isn't very common.
Pika Cha is an organic tea from Miyazaki prefecture, Yabukita cultivar, and from the first harvest.
Pika Cha, I choose you!
The leaves have the characteristic aroma of a high quality Japanese green tea.
It is deeply sweet. There's no doubt that it is from the first harvest.
The leaf appearance is very good. They are curly, but at the same time very thin and delicate.
I prepared it with 4 grams of tea, and 60 ml (2 oz) of water at 90 °C (194 °F) for 1 minute.
After paying attention to the aroma of the wet leaves, my impression is that it's like a high grade sencha, but less vegetal and marine.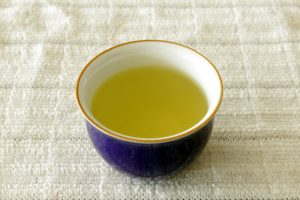 The liquor is yellow, and smells slightly sweet and fresh.
Very well, I'll go ahead and taste this green tea.
It has a lot of umami, just like a shincha. There's some sweetness to it, and it isn't bitter nor astringent.
I think that it might have toasted notes, but I'm not sure if I'm being influenced by the fact that kamairicha is a pan fried tea.
My conclusion is that the fact that it's a Japanese tea from the first harvest weighs more heavily than the tea processing itself.
I would have easily confused it with a sencha. And a good one, by the way.
For the second infusion I halved the infusion time.
It was similar, except for less umami flavor. I liked it too.
The third and final infusion consisted of just 15 seconds in boiling water.
It still had some umami left, and although some astringency was present it was still enjoyable.
The aftertaste leaves a freshness which is very relaxing.
I consider this a very good tea.
I'm looking forward to tasting the other Japanese teas from Teabento.