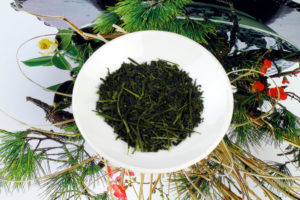 I've enjoyed tasting the single cultivar tea samples that Sugimoto Tea has given me.
This one is a fukamushi sencha, first harvest, from Shizuoka prefecture.
The Okumidori cultivar is fairly common. I've tasted a number of teas made with it, and it has always been a good experience.
Drinking a deep green liquid
I like the aroma of this tea. Fresh and sweet, it reminds me of baked goods.
Since it is a deep steamed green tea, most of the leaves are broken. But the ones that aren't have a very good appearance.
Their intense green color in particular is very enticing.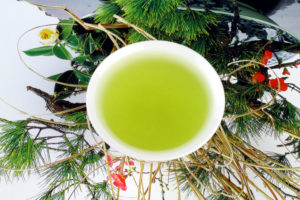 I did a 40 second infusion in 60 ml (2 oz) of water at 80 ºC (176 ºF) and it resulted in a deep green liquor.
This cultivar often has a good green color, but in this case it looks even better in my opinion because of the longer steaming time.
The wet leaf aroma is fresh, with some seaweed notes. It's also lightly sweet.
This is the moment of truth. Will it taste as good as it looks?
It has a noticeable body. The umami taste is very pleasant.
I would say that it's a balanced flavor. Plus, it isn't bitter nor astringent.
For the second infusion, I lowered the time to 30 seconds.
The color is slightly darker, and the umami taste is as intense as the first infusion. Very good.
Now I'll try it with 20 seconds.
This infusion has the same color as last time. But it is less umami and some astringency.
Still enjoyable.
The last infusion lasted for only 10 seconds.
A darker green liquor, although the flavor became lighter.
I also feel more astringency this time. But it's not excessive.
This was a relaxing tea session, perhaps because it is a well rounded tea that's very refreshing.