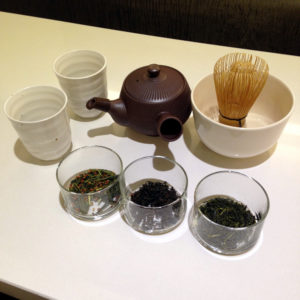 I've been hosting tea tasting events for about 5 years.
At first it was just once every two months or so, but now I have an average of two events each week.
Most of the tea tastings have been for a private group of people, but others have been at tea stores, restaurants, and also at offices.
My biggest tea tasting event so far has been for 130 people at a big law firm.
The great majority of the people in my country are new to loose leaf tea, so this might not be the same as in your case.
Anyway, this is what I've learned so far.
Young people are more interested in tea
The younger generations are in general more curious and eager to explore new things.
When I organize a tea event, I find that the participants are often less than 30 years old.
Older people do find tea interesting, but are less likely to take the time to learn more about it and drink it regularly.
Genmaicha is the favorite Japanese green tea of beginners
There's something about genmaicha's aroma and flavor that makes it a big hit for people that are just starting in tea.
People that are new to tea may at first dislike a straight green tea. However, genmaicha seems to be easier on the palate.
After genmaicha, houjicha is also well received. Maybe because it is a roasted tea and hence it's somewhat similar to coffee.
People are very interested in the health benefits of tea
Since being fit and healthy is very trendy, people want to improve their diet.
Green tea is always a popular alternative in that regard.
But I find that people who only care about health benefits as opposed to taste and aroma, end up buying cheap and low quality tea.
This has been happening for years, that's why low quality green tea bags sell so well even though they have a terrible taste.
So at the tea tastings, I focus more on the appreciation of tea than on its health benefits.
Everyone is surprised by the fact that tea can be re-infused
Since coffee isn't re-infused, when people hear that a tea can have multiple infusions they are astonished.
Sometimes I'm asked to steep a green tea more than once in order to prove it 🙂
I think that this is a strong selling point for tea, because it lowers the cost per cup and results in a longer enjoyment.
The overall experience is a positive one
People have a fun time and tell me that it was a very interesting experience, even if they end up not liking tea at all (which has happened only a few times).
Of course, this doesn't mean that everyone becomes a regular tea drinker from there on. The coffee habit is hard to break 🙂
A good percentage of the ones who do buy tea, don't drink it daily, unfortunately.
There is still much work to do, but I definitely think that this type of tea events are key to introducing loose leaf tea to the general public.
It's something that can't be done through the internet alone.