My wife and I wanted to go to Osaka because the city is famous for its food.
I hadn't been there much, even when I lived in Japan. Besides, I wanted to meet a a friend of mine which I had only talked to online: Tyas Huybrechts.
Tyas is the owner of The Tea Crane, and he's also a qualified instructor of the Japanese tea ceremony under the Enshu school.
For a Japanese tea lover like me, he's definitely a very interesting person to meet.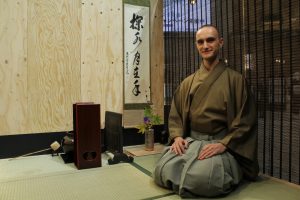 We met at the Hankyu department store in Umeda, which is a commercial district in Osaka.
Tyas was working at an event that had something to do with kimonos. He performed the tea ceremony for anyone that stopped at his stand.
Once he was ready, we went to have dinner.
Osaka is famous for a dish called okonomiyaki. It's similar to an omelette, or perhaps a pancake.
Eitherway, it's delicious! My wife and I were very excited about eating the real okonomiyaki from Osaka 🙂
Tyas took us to a restaurant called Tsuruhashi Fugetsu (鶴橋風月).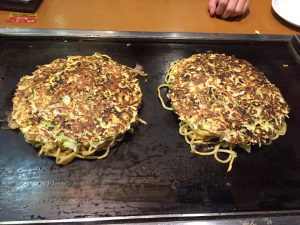 The okonomiyaki was delicious. It's also a great experience because it was prepared right in front of us.
Naturally, we talked about tea.
Tyas is very passionate about it. It's actually his main job.
I hope that one day I can live off tea like him.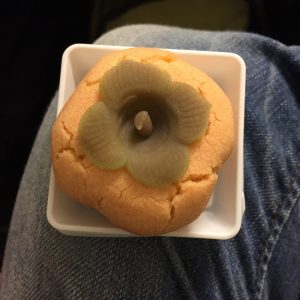 At the end, he gave me a wagashi in the form of "a persimmon that fell to the ground".
I'm not sure if this was a joke from Tyas or not 🙂
I ate it that night at the hotel and liked it very much.
If you will be visiting Kyoto or Osaka (both are quite close to each other), I highly recommend that you contact Tyas for a tea tasting or a demonstration of the Japanese tea ceremony.