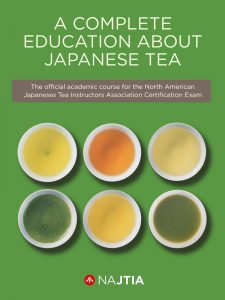 NAJTIA (North American Japanese Tea Instructors Association) is a non profit organization representing the Japanese Tea industry and the traditions around Japanese Tea in North America.
Before NAJTIA, you could only study the material from the Nihoncha Instructor Association in the Japanese language.
It's a big step forward for Japanese tea culture worldwide.
There are currently two online courses available: a free Introduction Course, and the Bamboo Certification Course.
The Bamboo Certification Course
This online course is essentially the contents of the book Nihoncha no Subete ga Wakaru Hon (日本茶のすべてがわかる本), writtten by the Nihoncha Instructor Association.
This book hadn't been translated to English until now. I actually have a copy of the Japanese version.
The course has nine chapters, and most of them talk about Japanese tea only.
Each chapter is further divided into different topics. While the content is fairly advanced, it's not difficult nor boring to read.
As support, there are pictures and charts. I would have liked some video as an extra material, though.
When you finish a chapter, you can take an online quiz. You need to obtain a passing grade in order to complete the course.
At the end, you will receive the certification diploma. I think that I'm one of the first people to obtain this diploma 🙂
Note however, that this course is not the most advanced one. That is, it's not the equivalent of being a Japanese tea instructor in Japan.
They are working on the next course. I'll let you know when it's ready.
If you want to dive deeper into Japanese tea, this course is a good start. I plan to take the following course once it's available.
Update: NAJTIA has closed.