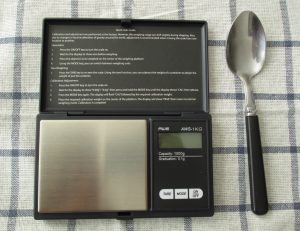 Have you ever tried measuring tea leaves to make a cup of tea by weight instead of volume?
Most tea drinkers just use a teaspoon and there's nothing wrong with that,  but us tea geeks sometimes need to go a step further.
We want to be sure that we're using the right amount of tea leaves of our precious gyokuro which we are about to drink with friends.
Measuring by volume
A teaspoon is actually a standard measure, which equals 1/6 fl oz, or about 5 ml. You'll need a measuring spoon though, because a common teaspoon won't have a precise measure.
If you try to measure tea leaves with a teaspoon, you'll find that the leaves don't fit nicely. Some leaves are too long and stick out, and others are too big and leave a lot of empty space.
Tea leaves differ depending on the type of tea, so measuring by volume is not accurate.
Measuring by weight
To get better results, you need to measure the tea leaves on a scale. The most common is to measure in grams.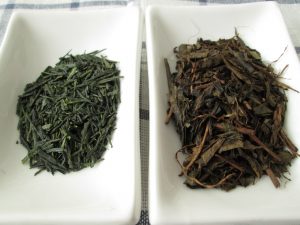 For a comparison, I took a picture of 4 grams of both gyokuro and houjicha. Notice how houjicha has more than twice the volume as gyokuro for the same weight.
I have a small scale that is very handy, the AWS scale that measures up to tenths of a gram. But as you can imagine, it takes more time than measuring with a teaspoon.
My advice is that whenever you are brewing a specific tea for a first time, use a scale so that you get a general idea of what volume of tea leaves you will need next time that you use a teaspoon.
You're free to brew as you prefer, and obviously you don't have to measure tea leaves to the nearest gram and infuse to the exact time. But it's always helpful to begin with a standard, and then you can take it from there.